Is Sarah Palin the Antichrist? "That's to be interpreted by the [audience]," says Gross National Product's John Simmons, referring to his theater company's latest comedy revue, The Sound of Palin. If nothing else, Palin is the anti-Maria.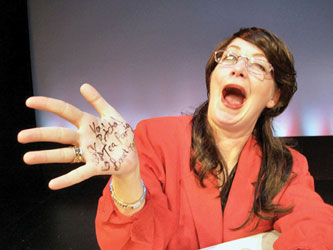 Christine Thompson as Sarah Palin
So, how do you solve a problem like Sarah?
That is the question. Simmons suggests the answer is to laugh. "If [a Palin-led world] is the trend that we're moving in — which it could be — let's get ready to laugh at it before it consumes us."
The Sound of Palin is, of course, a take-off of the beloved Rodgers and Hammerstein musical The Sound of Music. The musical spoof charts Palin's unlikely career from small-town Alaska mayor to national pundit and eventual presidential aspirant. And of course mother of five, including Bristol, who in the skit is 16, going on 17 — and pregnant.
The show, now playing at the Atlas, also includes other sketches and audience-inspired improv skits, and follows on many previous right-skewing productions from GNP. Simmons, the company's founder and director, plays several characters in the production, including Karl Rove. "I'm doing him like a combination of the Log Cabin Republican/homophobic nasty guy that he is and the evil emperor from Star Wars."
In a reversal of the Sound of Music, the Palins are the bad guys and take over from the liberals running the country. In particular, they perform as the Von Trapp family singers at a queer event at Wolf Trap, with Todd Palin singing an anti-gay "Edelweiss."
Says Simmons: "It's a kind of horrific, apocalyptic, hallucinatory projection of them becoming the first family."
The Sound of Palin runs to Feb. 18. Atlas Performing Arts Center, 1333 H St. NE. Tickets are $20. Call 202-399-7993 or visit atlasarts.org.