"This is the best one yet, and I'm so happy," Stacy "Fergie" Ferguson boasts toward the end of The Beginning.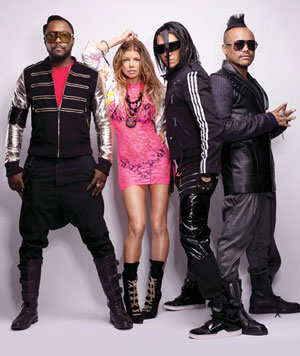 Black Eyed Peas
(Photo by Meeno)
Regardless of how much you might like the new Black Eyed Peas set, chances are you'll be disappointed. It's not as groundbreaking as the band's The E.N.D. in 2009. Ultimately, conceived as a sequel, it's simply more of the same from will.i.am, Fergie, apl.de.ap and Taboo. After a year of repeated plays and hit after hit blanketing every available public airwave, even The E.N.D. hasn't held up quite as well as you thought it might. You just know The Beginning will fade, too.
Despite Fergie's boast, The Beginning is not the best one yet. Which is not to say any fan of The E.N.D. — or of dance pop in general — won't like The Beginning. In fact, at this point the Black Eyed Peas are almost unimpeachable entertainers. It doesn't matter how much you might quibble with their lyrical small-mindedness, their auto-pilot turns to auto-tune and digital manipulations in a weak attempt to add distinctiveness, or even their occasional beat-rocking laziness. In the end, you're likely to fall sway to them anyway. Why deny America's favorite party band?
It's certainly hard to deny the fascinating old-school house vibe of "Don't Stop The Party," which has all the makings of a future club hit — even if it does strain a bit from overly processed, stuttering syllables, the Peas' stock in trade.
The band offers several tracks that morph from bland pop to dazzling dance in the span of just a few minutes, what they call "mega-switch-up" on the Rodney "Darkchild" Jerkins-produced "Just Can't Get Enough" — an original, thankfully not a cover. For example, "Do It Like This" starts out in full imitation-Jamaican flavor before jetting off to Ibiza. Apl.de.ap even calls himself the "funk soul brother," in homage to Fatboy Slim — the music pays tribute too.
"The Coming," meanwhile, starts off as a wan, unremarkable pop ditty, with Fergie on shrill vocal duty. But it quickly becomes a dance dazzler channeling a serious German techno vibe. "I'm a big beat thumper," says will.i.am. "They rocking my sound, out in outer space, I come from underground."
"I pledge my allegiance, to rhythm and sound," an auto-tuned will.i.am says on the sweet closing track, "Play It Loud." Earlier, on "Fashion Beats," he confesses to his doctor, "I'm a club rocker, that's my personality…I like to go out every night." Nothing particularly wrong with that, though you'd hope for a little more variety. "Where Is The Love" for the struggles of the world? Even The E.N.D. pledged allegiance to a broader humanity, with its peace and understanding anthem "One Tribe."
But the closest they come to a song with a serious, non-party message is "Someday," a latter-day-U2-styled anthem of hope, instructing a listener to persevere despite the naysayers or internalized negativity.
Instead, we get the band scraping the bottom of the pop culture barrel for lyrical ideas, fashioning songs out of nothing more than borderline-offensive phrases like "Love You Long Time" and emoticons ("XOXOXO"), or to a shout-out to Oprah Winfrey. "I wanna do it big like Oprah. I wanna own it," will.i.am says on "Own It." Get it? Like the name of her new television network? (No wonder she put the album on her list of favorite things last year.) The set is riddled with just such small-c clever/capital-T Topical rhymes. Not to mention overplayed studio gimmickry. The Peas even repeat the cheesy computerized vocal trope that characterized The E.N.D. "A wise man once said, tomorrow does not equal yesterday," the voice intones at album's end. (At the start, he told us, "For every end, there's a beginning.")
Black Eyed Peas
The Beginning: Deluxe Edition
Interscope
$17.98



It's true: Not even today equals yesterday, no matter how hard the Peas try to make it so. After taking four years off last time around between sets, only to reemerge with something different, certainly fresh, you just can't help but think The Beginning has come too soon. The set seems to have been rushed to capitalize on the band's overwhelming success with The E.N.D., which generated the band's first No. 1 hits on the main Billboard singles chart and positioned them — and especially will.i.am — as pop's leading hitmakers. For them to tread the same ground with the follow-up, in a decidedly hurried fashion, leaves a bad taste in the mouth. As if they're in it more for the "stacks" than the beats.
The Peas only worked with The E.N.D. guru David Guetta once on the new set, on "The Best One Yet (The Boy)." (DJ Ammo is the band's new go-to producer.) But that fact overstates things, because the influence of the French house megastar, responsible for "I Gotta Feeling" and largely for the Peas' retooled house-centric club sound in the first place, is stamped all over The Beginning.
To cite Fergie from last time around: Three-thousand and eight? They're so two-thousand and…well, not late exactly. Stasis.