Ever see a drag queen walk the runway on a balance beam? How about while dodging hurdles? Or blindfolded? You have if you've ever stopped by Town's year-long "So You Think You're A Drag Queen" competition.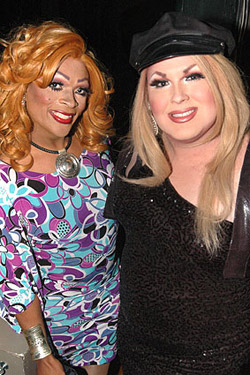 (Photo by Ward Morrison )
"The litany of ridiculous things we've had the competitors do," laughs Town's Ed Bailey. Obviously, while contestants at this amateur drag event compete to win cash prizes, even try to launch a drag career, the event is not your traditional drag pageant celebrating the art of female illusion. "That's not even remotely what this is about," says Bailey. "It's just about entertaining the audience and having fun."
Town started its amateur drag competition at the top of 2010, drawing inspiration from the recent spate of reality shows on TV, as well as from Town's first attempt at a talent competition, its anything-goes "This Town Has Talent." Bailey says the success of the drag contest has inspired them to consider similar events in the near future, focused on singing or dancing.
But before that, and before an intended second round of the drag competition, comes the first edition's finale this Friday, Jan. 7, co-hosted by Shi-Queeta-Lee and Lena Lett. A big opening number production is planned, as is a video montage of season highlights, courtesy of Metro Weekly (watch all nine episodes now at MetroWeekly.com/video).
But the focus of the night is on the winners from last year's 11 monthly contests (February's was a snowstorm casualty). The queens will jump through various hoops — maybe make an outfit out of weird material on the spot, say, or lip-synch to a song they haven't prepared for, a game known as "suicide drag" — all in a battle to win a grand prize of $2,500.
Bailey says the contest antics may be "absurd," and certainly don't "come into play in the real world of being a drag queen." But they do serve a purpose. "Anything can happen when you're a performer," says Bailey. "And you do have to be ready for it, and make the show go on. There have been some great moments where the competitors would take the actual ludicrous challenge and own it. Those are the people that won the competition."
Divas on the balance beam, on your mark….
The "So You Think You're a Drag Queen" finale is Friday, Jan. 7, at 10:30 p.m. Town Danceboutique, 2009 8th NW. Cover is $5 before 11 p.m. for those 21 and up; $10 after, or for those under 21. Call 202-234-TOWN or visit towndc.com.
So You Think You're a Drag Queen