The doctors didn't lie to Earline Budd.
The Oct. 25 surgery at Inova Fairfax Hospital to treat the colon cancer Budd was diagnosed with in June would be complicated.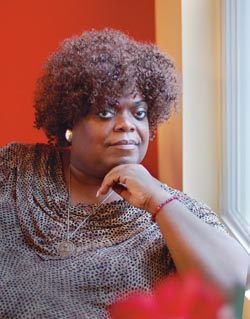 Budd
(Photo by Todd Franson)
"I was terrified," says Budd, one of the District's most well-known transgender advocates. "Because of my HIV status, my health, being over 50, and of course my weight, they really did tell me straightforward that there can be complications."
Adding to Budd's anxiety were instructions given by the hospital to bring a power of attorney and to have her will prepared.
"A lot of fear came my way," Budd says. "I believe that God gives you no more than you can carry, but this was one where I second guessed if I was going to come out of it or not. I said, 'Watch, something is going to happen to take me off my feet, where I cannot be there for the people that I most love.' And it happened."
Budd's laparoscopic surgery, in which operations on the abdomen are performed through small incisions, did not go according to plan.
"They couldn't seem to figure out where the urethra was and so they had to call in a urologist and they ended up having to literally cut me open," she says. "I've been in the hospital all these months."
Complicating her post-surgery recovery, Budd developed an infection.
"That went on for a week or so, lots of antibiotics intravenously being given. They didn't know if I was really going to make it, … because I was really out of it."
Once Budd beat her infection, she was sent to Specialty Hospital of Washington for wound care.
"It was such a deep wound because they had to cut my stomach and go down and cut the colon. This has been a really trying time."
Another local activist, Dr. Patricia Hawkins, a licensed clinical social worker and psychologist with the D.C. AIDS Network, was by Budd's side through the tumultuous time.
"It was an interesting situation because she is such an incredible case manager and advocate herself, and she was working the system. But when she was really pretty sick, right after the surgery, then obviously you're not able to do that," Hawkins says. "To be able to help with that was a real privilege for me because she's just done so much for so many people."
Hawkins says her training as a psychologist enabled her to provide Budd with emotional support and understanding of what was happening on the medical side.
"You're always afraid when you're facing cancer, major surgery, major recovery issues – you're facing being a transgender person in a straight facility in Virginia," Hawkins says. "It's not just a comfortable place to be."
Hawkins says she was relieved, however, to see that those providing services to Budd were respectful and sensitive to her.
Budd was released from Manor Care Health Services in Silver Spring on Tuesday, Jan. 11, and will be on bed rest for the next two weeks, with an in-home nurse for assistance.
"It's been a bumpy road," Budd says, "but I'm going home."
David Mariner, executive director of The Center, the area's LGBT community center, who met Budd about 10 years ago at a transgender conference in Atlanta, has witnessed Budd's tireless advocacy in Washington.
"When I think of Earline, I think of someone who is compassionate and committed and takes the time to help individuals with whatever they're facing," he says. "She has a really great gift of connecting with people that are hurting and finding ways to help them."