"We were just thrilled about [the D.C. government] decision that gay marriage would be legal," says Judy Gilbert Levey, co-president of the Foundry Gallery. "We thought that would be a great thing to celebrate starting off the year."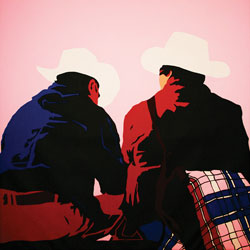 Amoroso D Si Se Puede
Levey co-curated, with the gallery's Ron Riley and Robert Wiener, the just-opened "Celebrate Gay Marriage" multimedia exhibit. The nonprofit Foundry, D.C.'s oldest co-op artist gallery, has never had a specifically gay exhibit before and the new exhibit is a rare offering featuring works by non-members, solicited through an open call to artists. "We've got a range of works that really touch on what I think of as sort of the three big elements to [people's conceptions about] gay marriage," says Levey. That is to say: love, sex and politics.
In addition to paintings, photographs and sculptural work, the exhibit, with 27 pieces of art, includes two embroidered pieces by John Paradiso: one a needlework image, the other a quilt. The pieces depict a loving gay male couple, an act that merges the traditional with the modern in both media and message. There's also a painting of a gay married couple in Mexico City, where gay marriage is also legal.
"[Gay marriage] made it in the District, but it's still a fight that's going on all over the country and around the world," says Levey, herself a painter. "Part of what we are doing by having this show, by being artists, is that we are not playing it safe, to provoke thinking, [and] incite some passion in people."
An opening reception, featuring the Gay Men's Chorus's Potomac Fever, is Friday, Jan. 7, from 6 to 8 p.m. On display to Jan. 30. Foundry Gallery, 1314 18th St. NW. Free. Call 202-463-0203 or visit foundrygallery.org.