"Until very recently, I went out of my way in all of my songs to…[write] in the second person," says singer-songwriter Dar Williams. "Because then you don't get into a lot of 'he's' and 'she's' that identify the orientation of the characters. Generally, I wanted to keep the field wide open for everybody to feel like it could be a song about them."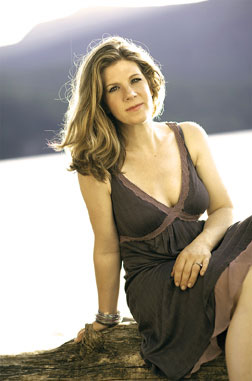 Dar Williams
(Photo by Rudolf van Dommele)
Her sensitivity to gender points to the support Williams has shown the LGBT community throughout her career. Williams is not a lesbian — and never really kept that fact secret. Still, for years she didn't exactly quiet the assumptions that she might be among the Sapphic set. "I didn't say I'm straight because I felt solidarity [with gay causes]," she says. When she became engaged to her husband, Michael, several years ago, she felt she had to fess up. And her lesbian fans reacted… with a "no big deal" shrug.
"I got a coming-out baseball from The Advocate," says Williams. "And some people at the Human Rights Campaign said to me, 'We of all people know how great it is to be honest about who you are.' It was just a really nice moment."
Several of Williams's best songs play like lesbian folk anthems — "I will not be afraid of women" goes the chorus to the buoyant "As Cool As I Am," and the brisk, clever "The Christians and the Pagans" tells a fetching, funny story about a lesbian couple who drop in on their Bible-thumping relatives during Christmas to educate them on the meaning of Solstice, in the process closing the gap between their different views. It's a remarkable song with a beautiful, affirming message.
Williams feels her songwriting — and its frequent focus on gender — was shaped by the '90s, the decade she emerged as a force on the folk music scene.
"All of that really important life or death stuff was happening in the '80s," she says. "If you came out there could be violence. If you didn't come out, it was violent because you're complicit with the inaction towards AIDS. [In the '90s], people started to take gender exploration out of the bedroom and into all parts of your life — how you dress, what your decisions are, how you identify yourself. And I came to realize that there's much political power in feeling the freedom to explore gender."
Traveling in a select folk-pop circle that includes Mary Chapin Carpenter, Patty Larkin and Ani DiFranco, Williams devises songs with strong narratives and captivating melodic hooks. She occasionally jumps styles — a touch of jazz here, a little electronica there — but rarely strays very far from her core.
She will be performing an assortment of her hits this Sunday at Arlington's Artisphere in two special concerts with IBIS, an Arlington-based chamber music society helmed by her brother-in-law, Joe Scheer, concertmaster for the Boston POPS Esplanade Orchestra. Scheer thought it would be interesting to orchestrate several of Williams's songs, and the artist jumped at the chance to perform the resulting arrangements live with IBIS. The two shows — one at 4:30 p.m., the other at 7:30 p.m. — will be recorded for a possible CD release. Williams won't divulge which songs are getting the classical treatment, but with some prodding, confides that "February," one of her most poignant numbers, will be among those on the set list.
At 43, Williams has settled into a new role of wife and mother, but has no plans to abandon her career.
"If there is a prayer I say every night," she says, "it's a prayer to help me stay grounded, help me stay diverse in terms of things that I've listened to and things that inspire me. Every artist I've spoken to puts it like this: 'I will stay open to the world and I hope that shows up in my music.'
"And that's your job as a musician," she says. "To stay open to the world."
Dar Williams, in concert with the IBIS Chamber Music Society, Sunday, Jan. 30, at 4:30 and 7:30 p.m. Artisphere's Spectrum Theatre, 1611 N. Kent St., Arlington. Tickets are $35. Call 703-875-1100 or visit artisphere.com.