Meet Dick and Duane. The beefy, furry comedic team from New York don't want to be called bears, and they're not leather enthusiasts but the leather crowd is the right one for their act.
"We're a gay married duo," says Duane Tragis. "So we tend to be sexual. I think that the leather crowd is sexually smart so that's why we love performing for a leather crowd. Because they get it, and they're with you."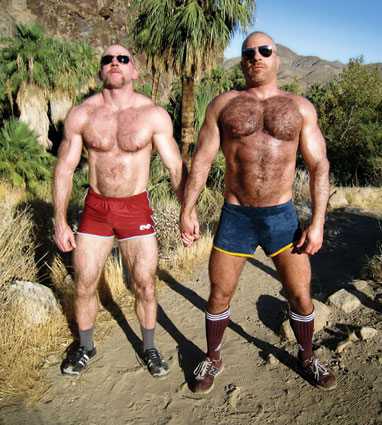 Dick and Duane
Not wanting to be called bears is not meant to disrespect the bear community. They just don't like labels. And if you saw pictures of Tragis and Richie "Dick" Cohen when they first met three decades ago, looking very much like Wham!, you would understand.
"We're not into any scene," Tragis says.
But they are into comedy. Their main purpose at the Mid-Atlantic Leather Contest is to make audiences laugh with skits inspired by old classics like I Love Lucy and the Mary Tyler Moore Show.
"We've been together for 29 years," says Cohen, recounting their meeting in college. "I was 18 and Duane was 19, and we have just always made each other laugh. And I guess a few years later, 24 years ago, we started performing on stage in Manhattan and here we are."
So what can audiences expect this weekend at MAL?
"Our act gets a little sleazier and a little raunchier with the gay audiences," Cohen says. "We definitely do tone it down when we play a mainstream comedy club. We do the same material, but we don't pull our dicks out."
Cohen adds that there have been times in the past where gay audiences have asked for a lot more than what they got onstage — including explicit propositions from some audience members.
"They want to fuck us," Cohen laughs. "Sometimes it's a bit of a drag for me, because I'm a bottom. Everyone looks at us and thinks big hairy guys and they think that we're both tops. I do get asked, unfortunately, by a lot of bottoms and I'm not interested."
Dick and Duane perform at the Mr. MAL Contest at the Hyatt Regency Ballroom on Sunday, Jan. 16. For more information, visit dickandduane.com.