Mayor Vincent Gray is expected to appoint three new top-level managers on Friday, Jan. 21. Among the three positions, Jeffrey Richardson is expected to be named head of the Office of LGBT Affairs.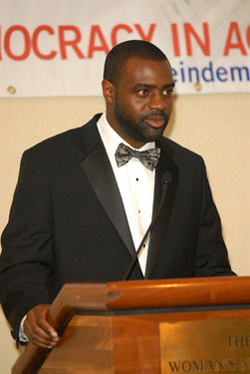 Jeffrey Richardson
(Photo by Ward Morrison)
According to a source in the mayor's office, Gray will announce Richardson as the new leader of the Office of LGBT Affairs during a press event in the John A. Wilson Building, 1350 Pennsylvania Ave. NW, at 11 a.m.
"In his continuing effort to appoint talented professionals to manage the government with compassion, dedication, innovation and skill, Mayor [Gray's] selections for the Deputy Mayor for Economic Development, the Director of the Offices of [GLBT] and the Director for Office of Risk Management are committed to effective service delivery that will benefit District residents," said the press release announcing the event.
While Richardson, who has served as president of Gertrude Stein Democrat Club, could not be reached for immediate comment, he did speak to Metro Weekly about the position in late December.
"Anybody would be honored to serve our city and serve our community at such a high post, to have the potential to have such major impact on policy and government that affects our community and the community broadly," he said.
Local gay activist Peter Rosenstein complimented Richardson at the time.
"[Richardson] has been very active in the LGBT community for many years," said Rosenstein. "As president of the Stein Club, involvement with numerous different organizations, he knows the people in the city, he's got a great personality, he's able to deal with everybody and I think he would make a great liaison to the mayor as head of that office."