Dan Noël competed for Mr. MAL in 1989 as a 28-year-old, active-duty Army police officer. He even used his real name at a time when gays officially couldn't serve, period. But surprisingly, despite the recent repeal of "Don't Ask, Don't Tell," Noël's not convinced someone would be any less "naive and not thinking" to follow in his footsteps. In fact, he thinks it might be harder to juggle a military career and a life in leather today.
"Now you have people that are very radical right that are very adamant that we should not serve our country, and that we're worth nothing," he says. "So you're going to have these radical people [targeting and harassing openly gay military officers]." Especially those exploring non-mainstream fetishes.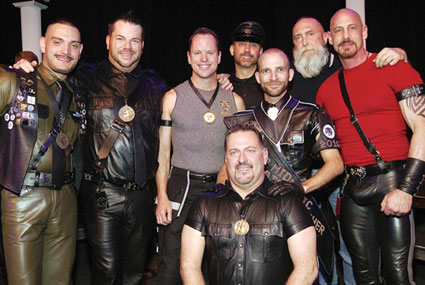 Noël ended up winning the contest and, per custom, went on to represent Mid-Atlantic Leather at the world's largest leather event, Chicago's International Mr. Leather. Almost every Mr. MAL titleholder before and since has gone on to place at least in the top 20 in a field of 60-plus contestants at IML.
Noël is one of the exceptions.
"After the contest was over," recounts Noël, "[the judges] came up to the Centaurs and me and said, 'We wanted you so badly in the top 20, but we all discussed it. We could not jeopardize your military career."' The top 20 would be videotaped, and the judges, some of whom were retired military veterans themselves, reasoned it'd be better to keep Noël from risking that kind of exposure.
"It was upsetting at the time," says Noël, "but they were looking out for [me]. They were protecting a brother."
That same sense of brotherhood is what attracts all walks of people to the leather community in the first place — and 2,000 or so of them will be on hand in D.C. this weekend for MAL. But those who compete to represent a leather bar or a leather organization are a special breed all their own. Several former Mr. MALs said that earning the title was a way to honor and give back to a nurturing community that had already given them so much.
"It's not just about having a title and getting to walk around with a vest with a name on the back," says Gary Samuels, Mr. MAL 2007. "It's an opportunity to gain some recognition and then do something important with it."
The Centaur Motorcycle Club started the Mr. MAL contest in 1985, initially just to augment what was already a popular Leather Weekend of activities, led by the traditional Saturday night Leather Cocktails. Frank Nowicki, Mr. MAL 1993, best known these days as the event's endlessly entertaining emcee, was on hand to help with the very first competition, held at the long-gone gay club the Exile.
"I did all the big floral arrangements, because it was just one of the talents I had," he says. "We did coffee cans with tinfoil with red and white carnations." It was a far cry from more lavish flower displays and sophisticated ice sculptures in recent years, but you've got to start somewhere. In the years to follow Nowicki also assisted the contest's co-founder and original emcee, Al Santora, helping him backstage, learning the ropes.
Nowicki says his role as emcee is "to reassure and support" the contestants.
"It's scary up there," he says. "I might have a little fun but I never go after the contestants. I'll go after the audience. If you've ever seen me emcee, you know I'm having a great time." Nowicki, who has hosted almost every major leather competition in the U.S. and Europe, considers the work a contribution to the community. "I never charge anything," he says. "I do this because I want to."
Since that first year, the contest has been held at various venues across the city, from the old Eagle to the former Tracks to Almas Temple. This year, it's at the new host hotel for the weekend, the recently renovated Hyatt Regency on Capitol Hill. Patrick Grady, MAL's chair, promises good things for this year's contest. For starters, it will be far more convenient to those staying at the host hotel. All they have to do is strap on and stumble downstairs.
"The winners are [all] so different," says Grady, who also serves as the central Centaur mentor — or "fairy godmother," to use Mr. MAL 2008 Chris Grasso's term of endearment — for the reigning Mr. MAL. Grady is excited that so many former Mr. MALs are expected at this year's event — as many as 12. All will be helping out over the weekend — and causing their usual commotion. "They're a handful anyway," teases Grady, "[but] when they're all together, talk about Satan's children. They are just so mischievous. They give me more gray hairs."
Mauro Montoya, Mr. MAL 1996, calls the pool of Mr. MALs — currently 26 strong, though a few are no longer active or accessible — a unique brotherhood. "It's kind of like being president of a fraternity," he says. "There's just not many of us that will have ever done that in our lives. For me, it was a very empowering experience. Just to have 5,000 hot, beautiful leathermen [at IML] screaming your name is just an amazing experience."
"I remember the camaraderie I had with the other contestants, being with them for three days, just talking to them and supporting each other," says Grasso. "It was just amazing. You really do connect." The 40-year-old had a chief motivating reason to compete at his home state Mr. Connecticut Leather and then at Mr. MAL and Mr. IML. "I was out to prove that big boys can enter contests as well as the body-beautifuls," says Grasso, who identifies as a "leather bear." "I actually was told I had no chance of winning the contests: 'Big boys like you don't win contests like this."' But he did — though he concedes he doesn't know of another "big boy" to win since.
Each Mr. MAL has a different reason for competing. Kerry Richard, Mr. MAL 1991, was looking for a new social network. "I was at a point in my life when I had lost my partner, who had been sick for a long time," he says. "I found myself alone and I was looking for direction, looking for a circle of friends."
It worked a little too well.
"I can honestly say it was one of the most treasured moments of my life, the weekend," he says. But "I met so many people, I got involved in so damn many things…I really got kind of burned out." As a result, he took something of an extended leave of absence to recharge. Having spent most of the past decade in France, the 57-year-old Richard, now residing in Baltimore, is "kind of itching to get back into things."
Several Mr. MALs expressed concerns about the future of the contest, which has gone from having two dozen contestants in its heyday to seven or eight in recent years. Kerry Richard partly blames the reduced number on the larger American society's greater acceptance of gays. Dan Noël thinks there's a bit of an identity crisis going on, as MAL and other leather events allow people to dress in non-leather "gear wear." For his part, Gary Samuels thinks leather clubs "need to do a better job promoting the importance of" title contests. "I think a lot of people see this as nothing more than a beauty pageant kind of thing," says Samuels, instead of one that comes with recognition and responsibility.
The common refrain "once a leatherman, always a leatherman" pertains to being a titleholder, too, says Samuels, comparing it to how former American presidents keep their designation for life. Titleholders should continue to pursue whatever issue they campaigned for. Samuels's platform at Mr. MAL was to reach out to the younger generation, to be what the 50-year-old calls "a goodwill welcome committee" to the leather-curious. He says he's kept in touch with some of those whom he helped usher into the community.
"Even if I made it easier for [just] one guy out there, then I feel successful."