In the early '90s, Suzanne Westenhoefer made the rounds of that era's spate of daytime talk shows — hosted by the likes of Sally Jesse Raphael, Ricki Lake and Geraldo.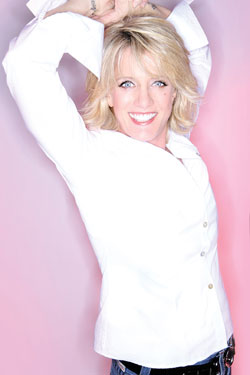 Suzanne Westenhoefer
(Photo by Adam Bouska)
"Everybody was like, 'an openly gay comedian? We've never heard of such a thing!' You would have thought that I invented it, but I truly did not," she says, noting that her friend Kate Clinton got there first. Westenhoefer was interviewed on television as a novelty act — they rarely had her perform her standup comedy.
And as it turns out, she only pursued comedy as the result of a dare.
"I was bartending at a Houlihan's in Secaucus, N.J.," says Westenhoefer, a native of Pennsylvania who had moved to the New York City area to try her hand as an actor. "My regulars [at Houlihan's] sort of challenged me to enter an open-mike contest, and I won the contest."
Twenty years later, the Los Angeles-based Westenhoefer is one of the most popular lesbians on the comedy circuit, performing regularly for straight or mixed crowds, but also occasionally for gay men on RSVP cruises. She's also had her own HBO, Bravo and Logo specials, and has performed on David Letterman. Lately, she's been getting more into acting. She plays a lesbian therapist in a dramatic Web series, We Have to Stop Now, also featuring Meredith Baxter. And she's getting set to star in a new film by director Nicole Conn (Claire of the Moon).
Westenhoefer's routine changes from show to show, but it's always personal — which is why she was out from the get-go. "I could not have done it as a comic who was not honest about her life," she explains. "I'd have nothing to talk about."
A few years ago, Westenhoefer married her partner, but she declines to talk about that in an interview. She's saving particulars for her latest show, dubbed the "Semi-Sweet" tour, stopping at the Birchmere this Saturday, Jan. 29. Revealing more in advance "ruins all the fun of it." — Doug Rule
Westenhoefer performs Saturday, Jan. 29, at 7:30 p.m. The Birchmere, 3701 Mt. Vernon Ave., Alexandria. Tickets are $45. Call 703-549-7500 or visit birchmere.com.