Being credited as a seminal contemporary American play doesn't make Eugene O'Neill's Beyond the Horizon easy to watch. In fact, the best approach to this play, and indeed The American Century Theatre's production of it, feels more like an academic experience rather than a theatrical one. While hearing actors speak the lines (as opposed to reading them on the page) frees one to contemplate the realism O'Neill introduced to this exploration of lost dreams, unrequited love and the ties that bind, it does not necessarily bring it to life. He may give us America's first taste of the emotional inner life (and how it explodes outward) but his context of long, rather stilted, exchanges and the over-simplified hardscrabble life of Midwestern farmers does much to dampen the effect. From a 21st century perspective, it is a play perhaps best seen for where it pointed rather than from where it was.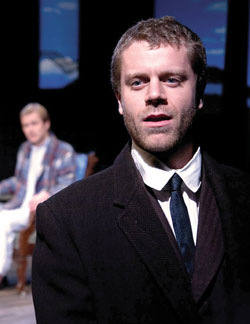 Beyond the Horizon
(Photo by Dennis Deloria)
Grappling with these hurdles, director Kathleen Akerley seems to have opted for a kind of pedantic precision over fluency. Although she carefully and acutely unfolds the emotional milestones of the drama, she hasn't pushed her young leads far enough into their roles and their relationships to create credible emotional communication – they talk at one another, not with one another. Even when they demonstrate a convincing moment of emotion, they seem to experience it like so many islands on a stage.
As the two brothers at the center of the story, Robert and Andrew Mayo, Joshua Drew and Felipe Cabezas provide distinct and definable characterizations, but little in the way of brotherly chemistry. When it turns out they both love Ruth, the neighboring farmgirl they have known all their lives, this under-developed connection saps the pathos of the explosive fallout. Drew gives Robert a dreamer's whimsy but he doesn't convince as he relates to the most important people in his life; often reacting more like a co-worker than a brother, husband or son. His best moments come when his eventual marriage to Ruth reaches a breaking point — but it is too long to wait for a sense of investment. As Andrew, Cabezas channels the volatility of this unsettled youth, but he seems at times uncomfortable with O'Neill's language and suppressed rhythms. And although he generates some credible instances of despair, the speed with which he dispenses with them belies their authenticity. People pull themselves together, but there is something about a moment of tears, especially for a man not used to such emotion, that lingers in the face, body and voice.
Successfully driving some of the more emotive moments, the experienced players here bring some much-needed cohesion. A memorable Jane Petkofsky as the boys' mother Kate Mayo, creates a strong sense of her character's narrow, rather repressed life and her homebodies' urge to keep her family safe and near. As the boys' uncle, Captain Scott, Joe Cronin gives his sea captain as much color and charisma as one could hope for in a rather tangential character. Chuck Young as the Mayo patriarch delivers some much needed passion to the family crises though, without more connectivity from the younger actors, the exchanges lack some power.
Standing out among the younger players, Eli Sibley as the older married Ruth (the younger Ruth is played by an affecting Ashley DeMain), gives Beyond the Horizon its strongest contemporary appeal. She makes this harried, unsatisfied yet unworldly young woman credible and interesting to watch. Even without quite enough to play against in the other younger actors, Sibley brings some of the best energy, grit and dimension to O'Neill's words. Amy Quiggins in several roles showed versatility, a compelling presence and much nuance. As the irascible Mrs. Atkins, Ruth's invalid mother, her interplay with Petkofsky's Kate has much of the flow and chemistry needed elsewhere.
It's a solid production of this early O'Neill, but perhaps more importantly a rare opportunity to consider a first foray into a kind of realism we now take for granted.