Calling the implementation of "Don't Ask, Don't Tell" repeal a "milestone event" for the Defense Department, Defense Secretary Robert Gates announced in a memorandum issued on Jan. 28 that repeal implementation "must be accomplished across the entire department at the same time" and occur "in a deliberate and careful manner."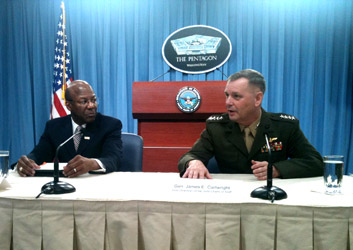 Stanley and Cartwright
(Photo by Chris Geidner)
Senior Pentagon officials also told reporters on Jan. 28 that although the DADT law remains in effect for the time being, the training the military is putting in place to end DADT is expected to begin this month.
In a letter to Undersecretary of Defense for Personnel and Readiness Clifford Stanley that was provided to Metro Weekly, Gates directed Stanley as to the "guiding principles" to provide a "solid foundation" for the implementation of the Don't Ask, Don't Tell Repeal Act.
As Stanley told reporters at a briefing about the implementation, a three-level process for repeal has been envisioned: "implementing or changing policies," "training changes" and "training of the actual force."
Stanley detailed that there are then three "tiers" of force training, including the experts, which includes chaplains and lawyers; the commanders; and the troops.
Joint Chiefs of Staff Vice Chairman Gen. James Cartwright, who also briefed reporters, said, "[Among] the service chiefs, the one key activity that has been common to all the meetings is the feeling that moving along expeditiously is better than dragging it out."
The head of the Palm Center, which has done research related to DADT for more than a decade, praised the actions announced on Jan. 28.
Aaron Belkin, the director of the Palm Center, said in a statement, "There is more work to be done regarding some important details and clarification of the timeline, but this is certainly a moment to step back, take a pause, and salute the armed forces for a job well done."
The certification required by the DADT Repeal Act by the secretary of defense, the chairman of the Joint Chiefs of Staff and the president will not happen until some point after that training, although, Cartwright explained, it "does not require 100 percent" of the servicemembers to be trained.
The law, in fact, does not require any training, although the Repeal Implementation Team put in place by the Pentagon has chosen to proceed with at least beginning repeal training prior to recommending that certification occur.
Servicemembers Legal Defense Network Executive Director Aubrey Sarvis said in an SLDN release, "I agree with Gen. Cartwright that all of the troops, from top to bottom, do not need to undergo a comprehensive training and educational program before there is certification.
"The training and education plan need only be in place," he said. "In addition, much of the training can continue to take place during the 60-day period following certification."
In terms of the timing for certification, Cartwright would only say that the expectation is that it can be completed this year, but, he added that "if something unforeseen arises … [t]hat will all be considered in the so-called calculus" for certification.
In the "DADT Repeal Policy Guidance" laid out by Stanley, an "Equal Opportunity" provision notes, "All servicemembers, regardless of sexual orientation, are entitled to an environment free from personal, social, or institutional barriers that prevent Service members from rising to the highest level of responsibility possible. Harassment or abuse based on sexual orientation is unacceptable and will be dealt with through command or inspector general channels."
Asked by Metro Weekly whether servicemembers would have legal remedies should these standards not be met, Stanley said, "There's no special policy needed to address the things we're talking about here with regard to taking care of people and treating them with dignity.
"So, the remedies you have are the remedies that already exist," he said. "There's no need to create new remedies with regard to that."
Cartwright added, "The absence of [a nondiscrimination policy based on sexual orientation] in law … doesn't change the fact that we don't discriminate."
Moreover, regarding same-sex partner benefits, Stanley said that "right now, no changes regarding benefits" are planned for servicemembers who might be legally married, under state law, to a same-sex partner.
Human Rights Campaign President Joe Solmonese found the Pentagon's process to be lacking in these regards, saying in a statement, "Equalizing benefits and non-discrimination programs will ensure that gay, lesbian and bisexual service not be seen as different from their colleagues but rather on an level playing field."
The new Media Matters for America venture, Equality Matters, quickly has jumped into the debate around DADT repeal implementation, with Equality Matters President Richard Socarides calling for an explicit presidential nondiscrimination policy.
"While there are positive aspects to the Pentagon's announcement today, the Administration's failure to mandate a clear non-discrimination policy either by way of Executive Order or regulation continues to be very troubling," Socarides was quoted as saying in an Equality Matters release. "For implementation to succeed, the President must set a clear non-discrimination rule as President Truman did in 1948 when he desegregated the armed forces."
At the news conference, Stanley made clear repeatedly that DADT remains in effect until certification, saying at one point, "It is still possible for a person to be discharged [under DADT]. I have heard nothing about a moratorium."
Asked to clarify whether any DADT-related discharges had occurred under the new procedure laid out by the Pentagon in October 2010 requiring the approval of the service branch secretary, Stanley and Defense Department general counsel for discharges, Stanley said none had occurred.
Asked by Metro Weekly to clarify the circumstances under which an individual would be discharged currently under DADT, Stanley said that he could not answer with any specificity because he must consider "the gestalt of all of what that individual is or is about."