Mayor Vincent Gray appointed three top-level managers on Friday morning, Jan. 21 during a press conference at the John A. Wilson Building. Among them was the new head of the Office of GLBT Affairs, Jeffrey Richardson.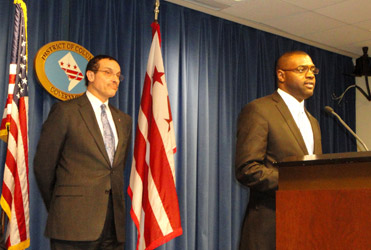 Gray and Richardson
(Photo by Yusef Najafi)
"The District of Columbia has one of the largest and most diverse GLBT communities in the nation. In the spirit of one city, Mr. Richardson will lead collaborative efforts with this population, the community at large and the government, of course," Gray said at the press conference.
Gray praised Richardson, who holds a master's degree in social work from Howard University, for his role as president of the Gertrude Stein Democratic Club and as a program officer with the D.C. Children & Youth Investment Trust Corporation.
Gray says he will be meeting with Richardson regularly.
"I have spent a lot of time with the GLBT community in this city. … I've been delighted to come and speak to Gertrude Stein [Democratic Club], for example," he said, adding that the organization endorsed him during his mayoral campaign. "I don't think there's any question that I will spend a lot of time with Jeff. Jeff and I know each other, we have a great relationship and I want to be a part of helping support his efforts."
Richardson spoke with Metro Weekly immediately after Gray made the announcement.
"I'm honored to serve and to step into this role," he said, adding that he does not have an official start date as he is wrapping up employment with the Center for Progressive Leadership.
In this new role, Richardson aims to bring hope to those who have become skeptical to the Office of GLBT Affairs' efforts with the last administration.
"It's a new day in 2011 and there's the opportunity to build that relationship by keeping the office's doors open, building access," he said. "That's one of the things I'm definitely committed to."
David Mariner, executive director of The Center, the metro area's LGBT community center, said he is "very excited" about Richardson's appointment, adding that he will do a "wonderful job."
"I would love to see a permanent home for our community center, but also I'd like to see across-the-board funding [for] people who most need it, especially when it comes to the LGBT community," Mariner said of what he sees at LGBT community priorities with the city government. "I think that means not just HIV/AIDS funding, but also substance abuse, mental health, what's happening in schools and what's happening with our seniors. We need to see the money go to the people who need it most."
Councilmember David Catania (I-At Large) said Richardson is an "excellent choice."
"I think he's an outstanding person and a highly effective advocate," Catania said. "I think he's a person of enormous integrity and I look very much forward to working with him in his new capacity."