"I hate when people are posting on Facebook and everything has an exclamation point," says Guy Smith. For the same reason, you won't find lighting guru Smith making much use of strobe lights. "A strobe light is a great momentary punctuation for something," he says. "But strobe lights in general are irritating — just as irritating as music that's too loud or coming out of the speakers badly."
Certainly, there are other, more clever ways of getting attention: Turning off the lights completely. Turning them all on at once. Big washes of single colors.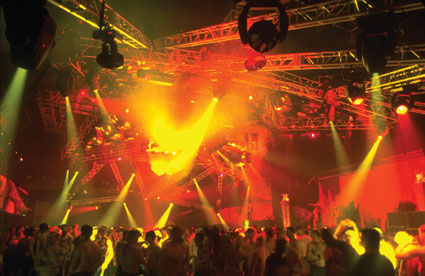 Guy Smith Productions
"I am the capitalization and the punctuation; I'm the grammar of the language of the music," says Smith, who will provide the lighting for Sunday night's MAL Reaction Dance at the 9:30 Club. "I may be the only one in the room that gets it, but then ultimately I'm really just doing it for me," he says. If you've ever been to a party where Smith was on lighting duty — an Atlantis cruise, say, or New York's Black Party — you know just how affecting his work can be. Others definitely get it. Smith is a musical grammarian par excellence.
As it turns out, Smith grew up with the language of music. His mother was a concert pianist and encouraged him to take music lessons. Growing up in Nashville, Tenn., his high school side job was repairing audio equipment for Music Row studios. He went to a special high school studying sound engineering.
But Smith actually got his degree and started his career in psychology, following in his parents' footsteps. After graduating from Brandeis University, he got a job as a family therapist in Boston counseling mentally unstable children. "My whole life was constantly dealing with someone else's crisis." Eventually, he saw the light. Or really, the lights — moving lights at Boston's gay club now called Avalon.
"I was completely inspired by that. I got myself a job there the next morning." With no experience, he had to work his way up to lighting duty, of course. He started off as Avalon's cleaning crew, "vacuuming up dirt and confetti and cleaning up little cups of human matter left by the go-go boys." Soon enough, he started assisting with lights at Avalon and other clubs in Boston, and then in New York, and left his work in psychology behind. Sadly, he also had to leave most of those who taught him the ropes behind.
"The people that taught me what lighting for music was all about are gone now," says the 40-year-old. "I'm the sole survivor," carrying on the legacy for those club pioneers, victims of AIDS.
Smith is looking forward to working again with Susan Morabito at Reaction Dance. "Susan is very adventurous," he says. "I like nothing more than to be surprised by the DJ, thrown a curveball." Smith doesn't pre-program his lights, and rarely takes his hands off the console. This will be his first year at Reaction. "I'm going to bring the Black Party feel and atmosphere to the room."
He's also bringing his leather — "you have to come dressed for class" — and his husband, Robert Montenegro.
"He'll be there as my boot bitch."
Reaction is Sunday, Jan. 16, at 10 p.m. Nightclub 9:30, 815 V St. NW. Tickets are $35. Call 1-877-4FLYTIX or visit 930.com.