Remember Lizard Lounge? Mark Lee's popular Sunday night party permanently closed over two years ago, but a new decade brings what could be a long-awaited successor.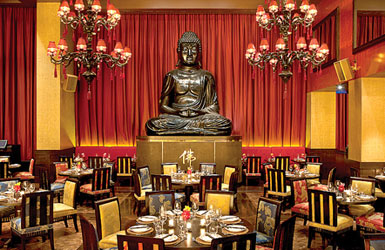 Buddha-Bar
"That is where we're trying to take this," confirms Buddha-Bar DC spokesperson Anna Don. "Somewhere Over The Rainbow" — starting next Sunday, Jan. 30, and taking place every Sunday thereafter — is what Don believes is the Paris-based global chain's first regular event for the LGBT community.
Many aspects of the planned party conjure thoughts of Lizard, from its no-fee cover policy to its mature, upscale vibe. Don describes Buddha's decor as "very sexy, with dim lighting and a lot of deep, deep warm colors." There's also, of course, an 18-foot Buddha in the dining room.
The music will be similar to the style of house music DJ Kostas offered at Lizard. Buddha-Bar's signature sound, captured in an annual DJ-mixed compilation series, mixes world music with house to create a bass-heavy, chill-out groove. Don says the Sunday night gay party will be a bit higher-energy than that. Opening night features local DJ Manifesto. Future events will include local DJ Saint James, Buddha's weekend resident, plus national gay-popular DJs, including DJ Theresa and Alyson Calagna, who spun at the club New Year's Eve. "I'm a really big fan of hers," says Don, who became acquainted with the Miami-based Calagna while living in South Florida the past seven years.
In fact, Don, who grew up in Baltimore, says most of her best nights out in Florida happened in gay bars. "I just wanted to bring that fun environment to Buddha-Bar."
Buddha-Bar DC opened last year and is currently the only full-sized Buddha in the U.S., out of a dozen or so around the world, in places including London, Dubai and Kiev.
The restaurant will serve its full menu until midnight every Sunday, and there are special happy-hour drink prices until 11 p.m. "There's not an official dress code," says Don, "but definitely no flip flops or tennis shoes, or holey jeans. [Go with] the clean look."
What about the gay male custom of taking shirts off? It's definitely frowned on. "Keep your clothes on," Don says, adding, with a laugh, "if it's possible."
Somewhere Over The Rainbow debuts Sunday, Jan. 30, from 9 p.m. to 2 a.m. Buddha-Bar DC, 455 Massachusetts Ave. NW. No cover. Call 202-377-5555 or visit BuddhaBarDC.com.