With Marcus; Or the Secret of Sweet, playwright Tarell Alvin McCraney returns Studio Theatre audiences to San Pere, La., a housing project that sits somewhere between folklore and reality. Once more, as was the case with McCraney's pulsing The Brothers Size and the haunting In the Red and Brown Water, Marcus is a lovely prose poem. Characters speak their movements, as though stepping outside to ensure their story is understood correctly. It's a delicate move that requires the same dedication and conviction as the rest of McCraney's knotty verbal lyric.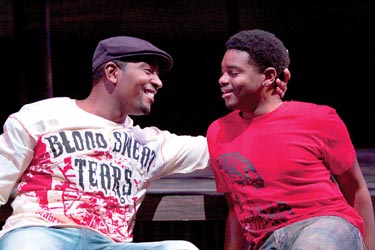 Marcus
(Photo by Scott Suchman)
Studio Theatre meets the play with a cast that is, largely, up to the challenge. Unfortunately, where it has its greatest difficulties is in the title character, played by J. Mal McCree.
Perhaps it's because McCree is surrounded by actors attacking their roles with more vigor and ferocity. Perhaps it's because Marcus is the most oddly constructed of "The Brother/Sister Plays" trilogy, dwelling a bit more solidly in the here and now than the "distant present" of its dramatic siblings. It makes the magic more difficult to achieve. We see the real world through the veil of swamp fog, and do not entirely lose ourselves in this place of rhyme and rhythm. Or, perhaps McCree is still finding his footing with this character whose internal world is the pivot on which the play balances.
Marcus is the 16 year-old son of Oba (Bianca LaVerne Jones) and the now deceased Elegba. Oba, like most of the people of San Pere, will join no conversation about Elegba. Rumor is that Marcus's father was "sweet" — gay — like Marcus, but that's not a subject for open discussion. Similar hesitation is not expressed when it comes to rumors about Marcus's sexuality. His best friend Shaunta (Shannon A.L. Dorsey) begs him to confess to her. His other best friend Osha (Rachael Holmes) might suspect it, but she's blinded by her own love for the young man. Terrell (Nickolas Vaughan) taunts him freely about it, and uses his suspicions to his own advantage when it comes to getting a bit of help on exams.
But Marcus is not simply a coming out story. True to form, McCraney has set this action against an oncoming hurricane, a storm Marcus believes he has seen in a dream whose deeper meaning sets some in San Pere scrambling for higher ground.
Dorsey is outstanding in the role of Shaunta. Brilliantly skilled with the cadences and patois of McCraney's writing (she appeared in Studio's production of Red and Brown Water), Dorsey brings an energy and authority to the stage that contrasts beautifully with Holmes's tailored interpretation of Osha. Also drawing wonderful attention is Lance Coadie Williams in the dual roles of Oshoosi Size and Shua and Stephanie Berry, herself doing double duty as Osha's mother Shun and San Pere's peculiar Aunt Elegua.
It is really only McCree who seems to struggle, not entirely in or out of his role. It's as though an uncomfortable gap formed, a space preventing him from reaching his character in the same way that Montae Russell occupies Ogun Size. McCree's is a shallower performance than others in the ensemble and, at times, it pulls attention grudgingly away.
Despite that, Studio's production of Marcus; Or the Secret of Sweet, nicely closes out the time some audience members have spent in San Pere, La. Not that we should entirely believe the loosely threaded stories of that community will ever be cleanly snipped off. Instead, it simply seems time for this bayou town to slip once more from sight.
---
TO SUGGEST that there is just one remarkable thing about Anna Deavere Smith is to do the actress a disservice. In point of fact, to simply refer to Deavere Smith as an actress is to take something away from the MacArthur genius well known to some as national security adviser Nancy McNally from NBC's The West Wing.
While often identified as the triple threat of actress/playwright/author, Deavere Smith is also part of a much larger legacy, her work encompassing the very best elements of documentary, anthropology and long-form journalism. She is a storyteller and historian, capturing and recording ideas and passions and those small elements of people's lives that might otherwise go unremembered, unnoticed.
In her one-woman show Let Me Down Easy, starting its national tour at Arena Stage's Mead Center for American Theater, Deavere Smith brings 20 different individuals to the stage. From Union Theological Seminary professor James H. Cone to former Texas Gov. Ann Richards to Matthieu Ricard, a Buddhist monk who brings the evening powerfully to a close, Deavere Smith moves in and out of other people's lives like a vaudeville quick-change artist.
She drinks a beer like a rodeo bull rider, vibrates with the unharnessed energy of a committed activist and speaks with the deliberate authority of an academic. Deavere Smith shrugs identities on and off with a practiced and careful ease, giving each individual respect and treating their thoughts with the kind of care we don't always see in work wrought from real life.
Let Me Down Easy finds its center as a meditation of the state and nature of health care, but quickly blossoms into something much more far reaching. Deavere Smith's show encourages us to consider the very nature of the human body – whether tuned to world-athlete status like Lance Armstrong or fighting for survival in the growing post-Katrina swelter of the New Orleans Charity Hospital. It raises questions about life, disease and our inherent discomfort with the idea and inescapability of death.
It is, of course, easy to become carried away with superlatives when discussing Deveare Smith and her work, particularly Let Me Down Easy. Better instead to turn full attention to Deavere Smith and the cast of characters she is shepherding to the stage. They will do everything but let you down.
---
IF YOU'VE NOT yet seen it, the television show Hoarders documents pathologically cluttered lives. Homes crammed with garbage to the point where the ability to move about is rendered virtually impossible.
This is the problem hampering Keegan Theatre's world premiere production of Peter Coy's A Shadow of Honor. Coy's play takes a magpie approach, the core of the piece slowly buried by the weight of too many side fascinations and distracting bits. Honor juxtaposes the stories of two families, each occupying the same house lifetimes apart and each carrying the burden of wars they didn't fight but cannot escape.
Keegan's ensemble does their best to wade through Coy's melodramatic obstacle course, occasionally achieving true greatness. It's at those times – including a climatic scene between actors Michael Innocenti and Shannon Listol (playing the modern couple) and a quieter closing exchange between Sheri S. Herren and Mark A. Rhea – that there is finally room to breathe on the stage. It's a moment of respite in a show struggling under its own weight.
A Shadow of Honor wants to be a multi-layered family drama, seamlessly joining past to present. Unfortunately, all we are offered is an uncomfortably crowded house.