"It's all right for younger people to like older music," says pianist John Eaton, an expert of the Great American Songbook and jazz music from the Swing Era. "At the Barns of Wolf Trap particularly, I'm getting a younger audience. And I don't mean just people in their 40s and 50s. I'm talking 20s and 30s. And that's a significant change from just 10 years ago."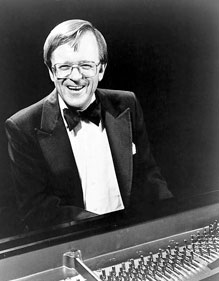 John Eaton
Eaton has been performing an annual three-part series, as educational as it is entertaining, focused on American pop and jazz standards at Wolf Trap since 1988. But the Washington native got his start performing jazz decades prior, including a stint as part of the house band at Blues Alley.
"In my view," he says, "the evolution of American songwriting goes hand in hand with the evolution of jazz."
This Saturday, Jan. 29, at Wolf Trap, Eaton will perform music from the 1930s Swing Era, "right smack in the middle of what is now called the era of the Great American Songbook." In addition to playing big band jazz from Count Basie and Benny Goodman, he'll be performing some of the best-known songs from George Gershwin (Porgy & Bess), Cole Porter (Anything Goes) and Harold Arlen (The Wizard of Oz).
Part of the renewed appeal in the music stems from the fact that it was generally upbeat at a time of real struggle, much like our own. "They're love songs, [many] from Broadway…or movies," he says. "They do not reflect the hardships, the suffering, the politics happening [during] what was probably the worst depression in our history.
"People wanted an escape, in a sense, from daily life."'
John Eaton performs Saturday, Jan. 29, at 7:30 p.m. at The Barns at Wolf Trap, 1645 Trap Road, Vienna. Tickets are $25. Call 703-255-1900 or visit wolf-trap.org.