For updates to this story, visit Metro Weekly's Poliglot blog.
"When I heard the gunshots and I heard someone yell 'gun,' my first concern was making sure that the congresswoman and those who would likely be around her would be okay."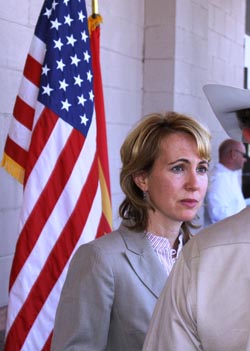 Giffords at previous congress on your corner
That's how Daniel Hernandez explained the scene to Rachel Maddow on Jan. 10, two days after the openly gay, Hispanic man had given Rep. Gabrielle Giffords (D-Ariz.) the immediate care she needed until emergency crews arrived after she was shot on Saturday, Jan. 8.
Giffords was one of 20 people injured in the shooting rampage Saturday that left six dead at the congresswoman's first "Congress on Your Corner" event of the year to help constituents. Gabriel Zimmerman, Giffords's outreach director, had organized the event. The 30-year-old was among the six killed, as were U.S. District Court Judge John Roll, and a 9-year-old girl recently elected to her school's student council and who was there because of her burgeoning interest in the political system.
Earlier on Jan. 10, when talking with CNN, Hernandez was asked if he saved Giffords's life. "I don't think that I did. I think it was emergency services," he answered.
"I think the people who are heroes are the people like Gabby [Giffords], who are public servants and have dedicated their lives to public service," he said. "So it just makes me happy that I was able to help her in any way that I could."
Hernandez, a University of Arizona political science undergraduate student had just begun his internship with the lawmaker. He also has served as an at-large commissioner on the Tucson Commission on Gay, Lesbian, Bisexual, and Transgender Issues since August 2010, according to Hernandez's Facebook profile.
The Arizona Republic on Jan. 11 reported that "[d]octors caring for … Giffords said this morning she is breathing on her own and is otherwise recovering from a devastating head wound she suffered when a gunman opened fire at point-blank range."
President Barack Obama, along with his wife Michelle and several top government officials, were scheduled to travel to Arizona on Jan. 12 for a memorial event to take place at the university. The event was scheduled to take place on Jan. 12 after Metro Weekly's print deadline.
According to The New York Times, "President Obama will focus his speech … on the victims of the attack and on the idea of service to the country, avoiding any overt commentary on the debate over violence and the nation's political culture."
Charged with attempted murder of Giffords is Jared Lee Loughner, a 22-year-old, who also was charged with two counts of murder of a federal employee for the deaths of Roll and Zimmerman and two counts of attempted murder of federal employees for nonfatal shots fired at two other congressional staffers.
On Jan. 8, hours after the shooting, Obama said that FBI Director Robert Mueller was dispatched to Arizona to direct the investigation, which led to the Jan. 10 charges filed against Loughner. Obama also said that within that time he had spoken with Arizona Gov. Jan Brewer (R-Ariz.) about the shooting.
Later in his brief address, after which he took no questions, Obama said, "It's not surprising that today Gabby was doing what she always does – listening to the hopes and concerns of her neighbors.
"That is the essence of what our democracy is all about. That is why this is more than a tragedy for those involved. It is a tragedy for Arizona and a tragedy for our entire country."
Giffords herself is a member of the House LGBT Equality Caucus who displayed her own pride at the repeal of "Don't Ask, Don't Tell" on Twitter when the Senate passed repeal on Dec. 18, writing, "DADT finally repealed! Celebration across Arizona skies tonight. What a glorious day." She included a picture of an Arizona sunset in the tweet.
Judge Roll was an appointee of President George H.W. Bush in 1991 and has been the chief judge for the district court since 2006. He had faced threats in 2009 relating to an immigration case that he heard, which resulted in U.S. Marshals Service protection being assigned to him and his wife for a period of time while the threats were being investigated.
In the wake of the shooting, many have focused attention on the language of public discourse in recent years, with Time magazine posing the question online, "Is Violent Rhetoric Behind the Attack on Giffords?"
In an editorial published on Jan. 9, The New York Times editorial board wrote that Loughner "is very much a part of a widespread squall of fear, anger and intolerance that has produced violent threats against scores of politicians and infected the political mainstream with violent imagery. With easy and legal access to semiautomatic weapons like the one used in the parking lot, those already teetering on the edge of sanity can turn a threat into a nightmare."