When Eric Cohen and Jonathan Blumenthal met while doing volunteer work with a gay and lesbian singles group, it was a special moment that launched a relationship still going strong 11 years later.
It was also a special moment for Washington's LGBT community.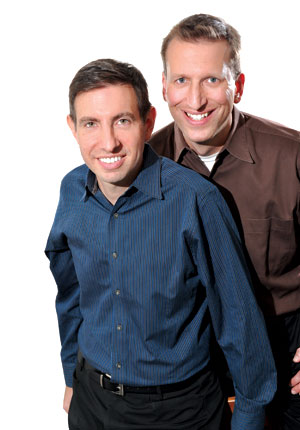 Jonathan Blumenthal and Eric Cohen (right)
(Photo by Todd Franson)
When the volunteer group shut down, the two men found themselves in a still-new-to-them city with few friends in the gay community. So they drew on their experiences to co-found in 2001 Burgundy Crescent Volunteers, an organization devoted to providing not only a social space for LGBT people to meet for friendships and relationships, but to provide the volunteer resources that so many groups depend on to provide much needed services and support.
Now, as Burgundy Crescent's 10th anniversary approaches in February, the group has directly provided volunteers for more than 160 organizations and boasts a mailing list of volunteers numbering more than 5,000. Add to that a full and active board and extensive committees to organize their outreach, and you have a contribution of lasting impact.
"It's given us a lot of satisfaction," says Cohen. "We view our relationship as special because we were able to get together and create this organization that has been going on for so long, and the experience itself of volunteering and giving other people the opportunity to volunteer and meet people — it makes our lives very fulfilling."
Cohen, BCV's vice-president, is the less outspoken of the two, while Blumenthal, BCV's president, often functions as the "face" of BCV. But Cohen ably offers a succinct case for why volunteering is a valuable resource for both the community and the individual.
"It's important to kind of get out into the community and see what's going on," he says. "It really makes it easy to meet new people from all parts of the community. Besides the satisfaction people get from giving back to the community, they also get the satisfaction of making new friends."
At the start of a new year when many take stock of their lives and their communities – and with the National Day of Service just around the corner on Martin Luther King Day – it's an excellent time to learn more about what it means to be a volunteer and build connections with others. After all, what you get from life is often dependent on what you put into it.
METRO WEEKLY: Is the start of the new year a time, in your experience with Burgundy Crescent Volunteers, when people are looking to become volunteers or increase their volunteer efforts?
JONATHAN BLUMENTHAL: I don't notice a huge bump, even though you would think that with New Year's resolutions you would see a huge bump. But we're pretty steady throughout the year. We have a lot of regular events that we do every month that keep people pretty active, and we have special events all year round. But I'm sure there are people who sign up or volunteer some extra time because of that reason.
MW: Being a volunteer can be a big commitment. Is there advice that you have for people to help them meet their goals when it comes to making that resolution or making that commitment?
BLUMENTHAL: One thing [about BCV] that's different from volunteering directly through an organization is that we don't require a commitment. So, if you want to volunteer one day at Food & Friends this month and one day with the pet-adoption event the next month, that's fine. There's no requirement to do anything ongoing.
When people ask me for advice on how or where to volunteer, I usually give them two pieces. One is to go with something that fits their interests, so if they love cooking, we're at Food & Friends or D.C. Central Kitchen. If they love dogs, we're with the pet adoptions twice a month.
But also step out of your comfort zone. A good example of those types of volunteer activities would be things like helping out at Green Door, which is a center for people with mental-health issues. We were there for Christmas and Thanksgiving, throwing a dinner for their clients. Sometimes those are the harder activities to fill because people are reluctant or uncomfortable around people they're not familiar working with. But the feedback I get from people afterwards is that that was one of their best experiences of the year.
And then we also do a lot of fun, silly things, like wrangling balloons at the Cherry Blossom or Fourth of July parades. There are a lot of different things that people can do to have different experiences.
MW: Burgundy Crescent is an LGBT organization, and you provide volunteers for LGBT and non-LGBT groups. Is there a core philosophy that drives who you're providing volunteers to?
BLUMENTHAL: We volunteer for probably every gay organization in the city and a lot of gay-friendly organizations. We will provide volunteers for any organization that is looking for gay volunteers and that welcomes us.
In terms of core principles, I would say that there are three things that we are interested in doing. We're interested in providing volunteers to the organizations. We want to give opportunities to our members and our community to volunteer, both for gay and gay-friendly organizations. And [the third] major component is the social aspect of our organization. We make a real effort to make sure we have a coordinator at every one of our activities who is there to greet the volunteers and make them feel welcome. We have nametags that help facilitate getting to know other people. We make it a social, friendly and welcoming experience for the volunteers. I know of hundreds of friendships and relationships that have been developed through BCV.
MW: Do you think that the social aspect of it is one of the big components of why you've been able to grow the way you have?
BLUMENTHAL: I think so. If you volunteer with us frequently, there are people you will see over and over again – that's how people develop friendships. But there are always new people, so there are always new opportunities to meet new people. I think that gives people a comfort level that makes them more likely to volunteer with us again.
MW: Have you met most of your friends at this point through BCV?
BLUMENTHAL: Oh, absolutely. I mean, obviously, we've met friends through work and travel, but I would say the majority of friends in our circle would be through Burgundy Crescent.
MW: My biggest social outlet in the gay community is tennis, so when we get together we talk about some typical gay stuff, but we also talk a lot about tennis. Is volunteering something that tends to be the common currency of the relationship or friendship in the same way?
BLUMENTHAL: That's a good question. My instinct is to say that volunteering isn't the common currency like tennis would be. It's definitely a way to start a conversation: Where else have you volunteered, what kind of activities are you interested in? But I don't see that as being the thing that develops a friendship.
MW: For you personally, what does volunteering and being involved do for you?
BLUMENTHAL: I would say that it has taught me what kind of impact I can have as an individual in my community. Having run the organization, I've learned how much of an impact a person can have. I've done other things as well since I've become involved with BCV – I guess it's given me a confidence about what one person can do.
MW: When you and Eric were looking to start the organization, what was the community need you were hoping to address?
BLUMENTHAL: Eric and I met through an organization that existed before BCV — Gay, Lesbian and Other Volunteer Singles, or GLOVS. So the concept isn't really ours, but once that organization dissolved and we were looking for other volunteer opportunities, we knew about this model. We knew that D.C. had some primarily straight organizations similar to BCV. We thought, let's try to revive this model for the gay community. I think D.C. works really well for this because it's a community with an enormous number of nonprofit organizations, both national and local, and a lot of people who are new to the community always coming and going. It's like a perfect model. And it's just continued to grow. We have singles who volunteer with us, couples who volunteer with us, couples who volunteer with us individually — there are no rules about that at all. We welcome everybody.
MW: What's the most rewarding thing you've experienced working with Burgundy Crescent?
BLUMENTHAL: One of the more rewarding things is how so many people have stepped up and wanted to participate in running the organization – all our different committees and board members, and the coordinators at the individual events.
Personally, [as a volunteer] I guess I would go back to a few years ago volunteering at Green Door and helping to put together a Thanksgiving meal for their clients. Just participating with their clients and the other volunteers and putting together a really nice Thanksgiving, that would be one of the more rewarding days I've had.
MW: Who are your members? Male or female, young or old – do they break down in any particular way?
BLUMENTHAL: It's interesting you ask that. We're putting together a survey of our membership probably that will go out in the next month or so to get a sense of where we are at 10 years and where we plan to go in the future. I can tell you from my own experience that we have a really nice diversity. I think we're equally men and women, we have a nice diversity of age from just out of college to people who are retired. We definitely have the whole LGBTQ spectrum.
MW: Do you find that you get people from all over the D.C. area, or do you have people mostly concentrated in the city?
BLUMENTHAL: We try to do events in all three areas. The bulk of them are in D.C., but we definitely do events out in suburban Maryland and Northern Virginia.
MW: Are there times during the year when you do notice upticks in participation, like Pride?
BLUMENTHAL: Definitely. [Laughs.] Pride is the busiest time of the year for us. We help out at a lot of the Pride events. And a lot of the organizations that have booths want to staff the booth all day long, so they often ask us to help. BCV does a bunch of things during Pride as well, so Pride is a busy time. I usually don't schedule a vacation right before Pride – it's usually right afterwards.
MW: You guys have really taken a lead on the green recycling program at the Pride festival.
BLUMENTHAL: That's actually one of the things I'm most proud of. Last year was our third year, with a separate Pride green committee under the Capital Pride umbrella that has been responsible for all the recycling that happens at the festival. They collect tons of water bottles and other recyclables. Very few events here in D.C. do the same.
MW: Working with Burgundy Crescent, what have you learned about the LGBT community?
BLUMENTHAL: I've seen the diversity of our community, and the diversity of passions in our community. We have the people who come to every one of our pet-adoption events and Pride of Pets. We have a lot of the eco/green type people who really want to "green up" the community. And then, of course, there are the foodies who want to be at Food & Friends and D.C. Central Kitchen. There is just such a diversity of interests and passions.
MW: What role has Burgundy Crescent played in your and Eric's relationship?
BLUMENTHAL: In a lot of ways it's our baby, something that we've both been involved with in terms of its development. Oftentimes, I'm definitely more the face of the organization. Eric has been involved in many ways – he supports me and is a sounding board for a lot of the issues that come up, as is the rest of the board. We definitely feel like it's what we've contributed to the community and what we've given birth to.
MW: Does it ever feel like a problem child?
BLUMENTHAL: [Laughs.] No. The nice thing about BCV is that it's not my day job. It is something that I'm able to do when it works around my schedule. So, no, it's never really created any kind of stress or trouble for us or for me.
MW: Do you find that the LGBT community is particularly attuned to the need for community service?
BLUMENTHAL: I think so. Of course, I'm biased because I'm a part of the LGBT community involved most directly with people who are giving. But we have a history of that going back to the early days of HIV when lesbians came out and started helping their brothers who were dealing with HIV. Our community is always coming together to support ourselves.
MW: What are you planning for the Burgundy Crescent 10th anniversary?
BLUMENTHAL: We keep talking about what we should do and it's coming up very soon. It very well may be a happy hour somewhere where we can celebrate. I'm not sure whether we're going to do anything much more significant than that at this point. Part of the question is what kind of event would we do and how does that fit into our priorities. You know, does it make sense to put that much energy into an event of that size? So that's why we're thinking more along the lines of doing a happy hour and celebrating that way.
MW: Well, you should be able to find plenty of volunteers to help put it together.
BLUMENTHAL: [Laughs.] Exactly, that wouldn't be a problem. Obviously, when we do have events like our one fundraiser of the year at Whole Foods Market, we are fortunate enough to have plenty of people step up who want to help out. That's never been a problem for us.
MW: If you can encapsulate one lesson learned from Burgundy Crescent, what would that be?
BLUMENTHAL: That people who have some early reluctance to volunteer, for whatever reason, should give it a try. They will find that it's very rewarding. Oftentimes, people feel like they're getting much more back through volunteering than what they put into it. One of the greatest measures of success that I see for our organization is how many people get introduced to different community organizations through BCV. I know people who have entered leadership roles in those organizations, and sometimes even staff positions that way. That's one of the things I'm most proud of.
For more information about Burgundy Crescent Volunteers, including upcoming volunteer opportunities and the group's 10th anniversary, visit burgundycrescent.org.
Celebrate the 25th anniversary of the Martin Luther King Jr. Day of Service on Jan. 17 by serving as a volunteer. Visit mlkday.gov to find volunteer opportunities in your area.