It's a timeworn Hollywood adage: The sequel is never as good as the original. And yet, there exist exceptions to the (mostly true) rule — Aliens. The Godfather, Part II. Terminator 2. The Dark Knight. Like it or not, sequels are a cinema tradition.
Around this time in 2009, we produced a list of "25 Gay Films Everyone Should See." On it were treasures like My Beautiful Laundrette, Boys in the Band, Desert Hearts and Maurice alongside more obvious choices like Brokeback Mountain, Transamerica and Torch Song Trilogy. We tried to make the list comprehensive, relevant and interesting. But, alas, 25 movies out of a pool of hundreds can't begin to scratch the surface of all that LGBT cinema has to offer. Hence, we offer you 25 more films to add to your Netflix queue. Call it, The Sequel.

What's interesting is that in the history of cinema, explicitly queer movies didn't really venture into the cultural landscape until the mid-'70s, coming to full fruition in the mid-'80s and, especially, '90s. Yes, there are classics that allude to homosexuality — Hitchcock's Strangers on a Train and Rope, Billy Wilder's Some Like It Hot — and a handful that are slightly more direct in their queer suppositions — Tennessee Williams's Suddenly Last Summer, Lillian Hellman's The Children's Hour — but gay movies are essentially a 40-year-old phenomenon.
It's telling — encouraging, even — that two of the films to make this second round weren't even in release at the time of the first — Lisa Cholodenko's Oscar-nominated The Kids Are All Right and Tom Ford's magnificent, visually opulent A Single Man. Queer cinema is evolving — slowly but surely — into a mainstream entertainment, but it's still one that pushes the envelope and achieves a richness of culture that goes far beyond the norm. Our stories are just that compelling.
We know what's coming next. And for those of you about to squawk, "Why isn't The Birdcage on the list?" please note that, while we admire the film, it is exactly the same movie as the far superior La Cage. Including it would have been a redundancy. Ditto for To Wong Foo, which is kind of a lesser Priscilla. We're ready for the barrage of where's Fassbinder? Where's Jarman? Where's Jeffrey? The Broken Hearts Club? Mambo Italiano? WHERE THE HELL'S EATING OUT 2: SLOPPY SECONDS?!
So to that we answer, with the controlled spin of a garden-variety Hollywood publicist, Just you wait until next year's "25 Gay Films Everyone Should See: 3D!"
A SINGLE MAN (2009)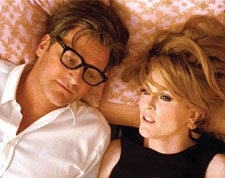 A Single Man
Should anyone decide to compile a collection of the most sexually intense film scenes where absolutely nothing explicitly sexual takes place, it would be impossible not to include the cigarette scene from A Single Man. George Falconer (Colin Firth) has just left the liquor store when he meets Carlos (Jon Kortajarena), a James Dean-esque Latin rentboy who's hanging out in the parking lot. The two share nothing more than a cigarette, George complimenting Carlos on his good looks and ultimately taking the flirtation no further, but the erotic ache contained in those few minutes of film is palpable. Based on the Christopher Isherwood novel of the same name, A Single Man unspools a single day in the life of George, an English professor living in 1960s Los Angeles. It's the day George has decided will be his last (and we hasten to add that this is not a spoiler), finally giving in to the depression that has consumed him since his longtime partner was killed in a car accident.
Fashion designer Tom Ford, making his directorial debut, uses his keen eye and polished aesthetic to provide the film an alluring, beautiful richness. It has the finish of an immaculately tailored garment.
---
---