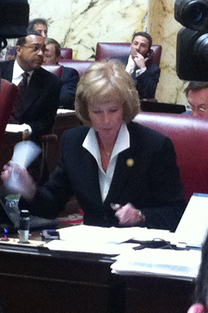 Senate Bill 116, The Religious Freedom and Civil Marriage Protection Act, passed a second reading in the Maryland State Senate on Wednesday, Feb. 23 with amendments made to the bill.
The Senate began discussion of amendments to the bill at 10 a.m., and concluded shortly before 12:30 when Senate President Thomas V. Mike Miller, Jr. declared that the amendments had gone too far and he wanted to avoid getting trapped in a "slippery slope."
With that, the Senate voted the bill favorable with amendments 25-22, which means that the bill will receive its third and final reading tomorrow, Thursday, Feb. 24.
The amendments that were adopted to Senate Bill 116 included one introduced by Sen. C Anthony Muse (D-Prince George's County) to take out "Religious Freedom and" from the title of the bill.
"There is nothing that would apply to all to say that this bill is about religious freedom," Muse said, "it is not."
"Our entire discussion has been about same-sex marriage in Maryland, and that's really what it is."
Another amendment to further change the name of the bill to swap "Civil Unions" with "Same-Sex Marriage," was rejected.
Other adopted amendments include one by Sen. Jamie Raskin (D-Montgomery County), co-author of the marriage bill, clarifying gender language in the bill by stating that one cannot marry certain individuals including siblings.
There were many amendments that were rejected, and withdrawn, including one from Sen. E.J. Pipkin (R-Caroline, Cecil, Kent & Queen Anne's Counties) asking that goods, services, employee benefits and housing be denied to same-sex couples. Pipkin withdrew that amendment after discussions.
One rejected amendment, described by Raskin as the "most radical" amendment to the bill, was one introduced by Sen. Nancy Jacobs (R-Cecil & Harford Counties), who has said she will vote against the bill, to "protect" public figures from same-sex marriage.
Jacobs said for example, if the bill were to pass, a court clerk should not have to take part in the giving of a marriage license to a same-sex couple if it conflicts with his religious faith because the oath that he took to serve as a public figure occurred before passage of Senate Bill 116.
The Senate voted against that measure.
A final bill reading on SB-116 is slated for Thursday, Feb. 24.
To read each amendment and for more information about Senate Bill 116, visit http://mlis.state.md.us/2011rs/billfile/SB0116.htm.