Ever see a cake with a watersports theme, euphemistically speaking?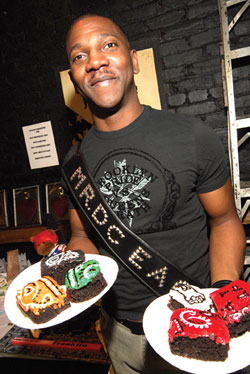 Scarlet's Bake Sale
(Photo by Ward Morrison)
If you've ever been to Scarlet's Bake Sale, the annual cake auction fundraiser at the DC Eagle, you've seen cakes at least as imaginative as that. Edible cakes in crazy shapes — human body parts — or decorated in wild themes, including tributes to gay icons, activities and proclivities, are par for the course.
"It's just amazing the artistic ability that some of [the bakers] have," says Craig Carlton, a 25-year volunteer with the fundraiser, begun 40 years ago by Ed "Scarlet" Nesbitt and Neil "Mei Ling" Redman. All manner of people bake and donate the cakes, from commercial companies to leather clubs to individual bakers — anyone. "You can decide Saturday morning that you want to get up and bake a cake and bring it in," says Carlton. Donated baked goods should be brought to the Eagle between 1 and 4 p.m.
This year's funds go to Baltimore's Moveable Feast and Pets-DC. The event can garner as much as $30,000, depending on turnout and interest, says Steven Decker, this year's bake sale director. Individual cakes can go for as little as $35 to as much as $700. There's also a smattering of donated leather items, including the clothes right off the backs of the current Mr. MAL and Mr. DC Eagle titleholders.
Decker expects a number of cakes on the big 4-0 theme this year. But he'd be happy for another watersports cake, like one from two years ago. Decker, who's been involved with the sale for over 20 years, also cites it as his favorite. On top of the cake was a fountain, so to speak, created by connecting an aquarium pump contraption to the "hose" of a male figurine standing over a reclining friend. "It was fascinating," says Decker.
While Decker buys "at least $500 worth of cake" every year, he didn't manage to take the watersports cake.
"It went for a much higher price than I was able to come up with."
Scarlet's Bake Sale turns 40 this Saturday, Feb. 12, at 5 p.m. At the DC Eagle, 639 New York Ave. NW. Call 202-347-6025 or visit dceagle.com.