"There's so much stuff going on," says Scott Kenison. "It's really like multicultural on steroids." Kenison, chief operating officer of the Atlas Performing Arts Center, produced the arts complex's second annual "Intersections: A New America Arts Festival," launching this Friday, Feb. 25, and running for three weekends.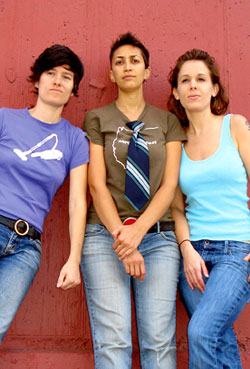 The Pushovers
"It's sort-of the essence of what the Atlas is and what it aspires to be," says Kenison. "It's a meeting place for people from all different areas and walks of life."
Over the next three weekends, the curated festival will present 100 performances filling every space of the Atlas complex in Northeast's hip H Street Corridor, and spanning the full spectrum of the performing arts — theater, dance, music, spoken word — plus film. Last year's event attracted roughly 6,000 patrons.
This year, organizers have created "festival roadmaps," breaking down the schedule into three broad categories: "Voices from the New America," "Discover New Artistic Directions," meant for world-premiere productions and emerging artists, and "Meet at the Cultural Crossroads," focused on multi-disciplinary collaborations.
The popular spoken-word group SpeakEasyDC offers the first event in the "New America" category, offering stories about the evolving nature of American families, including LGBT. Other offerings of particular interest to the gay community throughout opening weekend include performances in the lobby cafe by ensembles with D.C.'s Different Drummers and by The Pushovers, the new local pop-folk group featuring Mara Levi, Nancy Eddy and Liz DeRoche, both on Saturday, Feb. 26. The festival's remaining two weekends will include performances by a Gay Men's Chorus of Washington ensemble and the LGBT a cappella group Not What You Think.
The festival officially launches with a Latin-flavored Opening Party on Friday, Feb. 25, at 9 p.m., in the Atlas's Sprenger Theatre. The D.C.-based Trio Caliente will perform its blend of Flamenco, pop and Brazilian jazz.
Intersections opens Friday, Feb. 25, and runs weekends to March 13, at the Atlas Performing Arts Center, 1333 H St. NE. Ticket prices and passes vary. The Opening Party is $20, including drinks and appetizers. Call 202-399-7993 or visit atlasarts.org.