A.J. Singletary was walking home from a friend's house, near 14th Street and Florida Avenue Northwest, on a mid-January evening when he was assaulted by a group of three men. He was attacked from behind, beaten to the ground and called "faggot."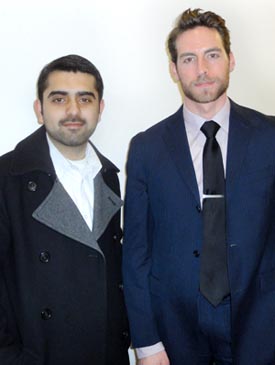 Hassan Naveed (left) and A.J. Singletary
(Photo by Yusef Najafi)
But he fought back.
"I actually just turned around, and when I was on the ground, I kicked one of them in the face pretty hard and broke his nose, so they took off," he says, adding that fighting back may not have been the wisest move.
"I had a battle with that, like, 'If they had a weapon would I still be okay right now?"'
The 25-year-old Singletary, a native of Mountain Home, Ark., has lived in the District since 2008. He's been active in the community as a member of Gays and Lesbians Opposing Violence (GLOV), D.C.'s LGBT anti-violence task force, a project of The Center, for the past three years.
Prior to his attack he was in the midst of discussions with the group's 2010 co-chairs, Kelly Pickard and Joe Montoni, about running for leadership in 2011. The Jan. 16 incident, which left him bruised on his back and shoulder, initially created some doubt, but ultimately fueled Singletary's passion to lead GLOV.
Singletary shared his story with nine other members of GLOV, gathered at The Center, at 1318 U St. NW, for the organization's annual election meeting on Thursday, Feb. 10.
"When this opportunity came up, I had to take a step back for a minute and think about the balance between extreme passion to make change and the ability to lead competently," he said. "It took me a minute to do some introspective thinking and realize that I can use the passion from my latest incident to really help this organization and to, more importantly, help the D.C. LGBT community."
Singletary
(Photo by Yusef Najafi)
Prior to selecting Singletary as the group's chair, GLOV members unanimously agreed that this year they would change the model of leadership by having a chair and vice-chair. Previously, two co-chairs served with equal responsibility.
Singletary and D.C. resident Hassan Naveed, 24, were the only members of GLOV who expressed interest in leading the group. After hearing each speak, Montoni, with unanimous approval from all in attendance, declared the two the group's new leaders.
Naveed, selected to serve as vice chair of GLOV, is a fairly new member. He's been living in the District for seven months now, and currently works for an accounting firm in Bethesda. Speaking to Metro Weekly following the election, Naveed said he initially got involved with crime prevention advocacy in Santa Barbara, Calif., serving as a community organizer focusing on bias crimes against LGBT people, following an incident involving friends.
"There was a gay party in one of our college towns…in 2009," he recalled. "And a group of folks showed up to the party and actually beat two [members of the LGBT community] to the ground." he said, adding that the victims were close friends.
The psychological impact of the attacks on his friends is what triggered Naveed to get involved in organizing anti-violence efforts at the University of California, Santa Barbara.
"[It's] something that I really do care about," he said, "especially for folks in under-represented communities. It's been a major focus of mine because of the folks who were attacked — one identified as trans, and they were both people of color. That was something that definitely hit home."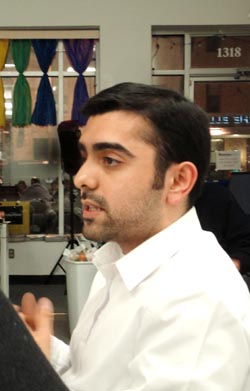 Naveed
(Photo by Yusef Najafi)
He deemed it appropriate to serve alongside Singletary as vice-chair. "It makes perfect sense because I think A.J. has a lot of experience, and I have a lot to learn from him."
As GLOV chair, Singletary will continue to provide sensitivity and educational training aid to the Metropolitan Police Department, an effort driven by Montoni and Pickard in 2010. He will also strive to expand the organization's volunteers and conduct outreach to minority groups.
"There are folks in our community who are not at this table that are most impacted by hate crimes," Singletary said, specifically referring to the trans community.
Speaking with Metro Weekly after the meeting, Singletary said he will also work to emphasize the impact hate crimes have on communities.
"The last hate crimes report — as government reports are — was very factual, very statistic driven," he said. "As a community organization we can provide the numbers and the stats, which are incredibly important. But we also need to provide the personal stories. We're not numbers. We're people. We're impacted by these crimes and it personally impacts us to a point, where for some people they are debilitating.
"When we provide these stories," he continued, "we need to provide testimony from folks that have been impacted by hate crimes. We need to show the people who live around us that this impacts us greatly and that a crime against another person is a crime against the community in general, straight and gay."
For more information about GLOV, visit glovdc.org, or e-mail .