Last summer, So Addictive Lounge started a gay night on Wednesdays.
By November, Thursdays and Fridays had gone gay too.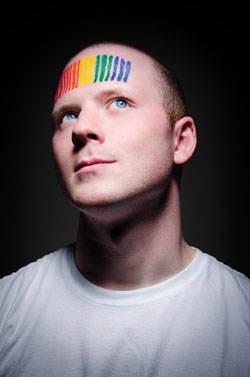 Austin Jennings
(Photo by Julian Vankim)
"We were thinking about adding a fourth gay night when we realized we should probably just become a gay bar," says Austin Jennings, the bar's general manager. And since the start of 2011, that's just what this former Internet coffee shop has become. Based in Herndon, So Addictive Lounge is the only gay bar and restaurant in Fairfax County and only the second in Northern Virginia, making the state just a little bit bluer.
Dewey Yen, a straight Chinese immigrant, has owned So Addictive in historic Herndon from the get-go. Jennings, elevated from gay-nights promoter to the venue's general manager, says the changeover has gone off without a hitch, and that Yen "is very pleased" with the bar's changes and new customers (a "complete 180" degree difference). A lot of their neighbors have also expressed full support, including Jimmy's Old Town Tavern across the street and the Herndon Police.
"We're starting with a blank slate in the area," Jennings says, noting that there's an estimated 20,000 LGBT residents in Fairfax County. "There are no other gay bars, there's no real anything, so we kind of have everything at our disposal. We can have a drag show. We can have karaoke. We can have a dance troupe. We can do whatever we want."
Jennings has been redecorating the space since November, but there's still more planned, "creating a new personality and a whole new look inside." So Addictive just hired a new chef, who's devised a new menu focused on modern American cuisine. They've also upgraded the drink menu. They still offer coffee, and may start opening before 6 p.m. in the near future. They plan to open every Sunday starting next week, Feb. 13, with a Valentine's Day Brunch.
Austin Jennings
(Photo by Julian Vankim)
This Saturday, Feb. 5, So Addictive will officially brand Saturday nights college night and to have invited LGBT groups from nearby schools, including George Mason University and Northern Virginia Community College, to participate in a fraternity-themed "Rush" party.
"We're going to have fake pledges onstage, and [drag queen] Victoria Jaymes will be hazing them — jokingly, obviously nothing too painful or sexual," Jennings says.
Jennings, who got a degree in International Studies/Eastern Europe from Virginia Commonwealth University in Richmond, hopes to become a foreign-service officer one day. But for now, he's juggling two full-time jobs: In addition to his duties with So Addictive Lounge, he's an event planner in Tysons Corner by day. But the bar is proving to be a passion. "This is a little bit of a dream come true," he marvels.
So Addictive Lounge is located at 733 Elden St., Herndon, Va. Call 703-481-0010 or visit soaddictivelounge.com.