Twenty-four years ago, George Michael launched Faith with an organ playing the melody from "Freedom," a hit he had with Wham! a couple years prior. It was a clever way of trumpeting his emergence as an independent solo star. He further stirred the pot by sexing up his image, although he wouldn't come out for another decade. He caused controversy with first single, "I Want Your Sex," at a time when mere mention of the idea was scandalous.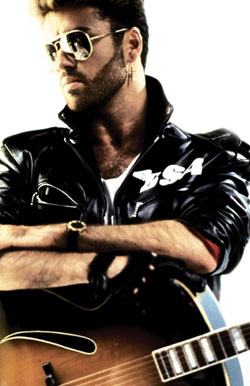 George Michael
When you shake your ass, he confirmed, people do notice fast. But was it built to last?
His longtime label has just released a re-mastered version of the set along with a bonus disc of outtakes and remixes, plus several additional tchotchkes — a DVD with a movie-length 1987 interview and all the album's videos; a book with rare photos and essays — depending on how much you care and want to spend.
The fact that it's being released digitally — and on CD — may be enough for some. In 1987, after all, CDs hadn't even reached a mass audience yet. I haven't listened to a cassette tape in years — and Faith, even longer.
Listening to it again after all these years is a trip, literally. It can be hard to separate the music from your memory. Do you love "Hard Day" simply because you remember how giddy it made you feel, dancing around your bedroom as a teenager, a glimpse of dancing days to come? It's early house electronic baubles do seem a bit dated to today's ears, but as critical a role as the song — and the album in general — played in my adolescent musical awakening, it's hard to truly assess how well it holds up on its own.
Faith proved that Michael has a special knack for torch-song balladry and soulful jazz-pop crooners. And certainly, the lyrics and the album's message are still striking. Actually more so, since as a kid Michael's struggles with love were largely lost on me. Faith is a masterful study in unrequited lust and untenable love. He turns down a relationship on the title track — "Well I need someone to hold me, but I'll wait for something more." He considers leaving a lover who has clearly lost affection — before his pride convinces him to give it "One More Try." Later, he realizes he should have given up. "Strange that I was wrong enough, to think you'd love me too," he sings on "Kissing A Fool."
It's remarkable how much Michael, throughout Faith, conveys the common heady sentiment, especially known to gay people everywhere, of unmet desire. Pining for someone unattainable, either because they're not attracted to you, or because they struggle to muster the courage to admit it. "The only one you want is the only one you'll never have," he succinctly expresses on "Look At Your Hands." And of course, there's "I Want Your Sex," in which Michael pleads with a friend to become a lover. "I've waited so long baby, now that we're friends," he sings. If you only know the pent-up radio version — known here as "Rhythm 1 Lust" — you must listen to the nine-minute version here, which ends with the sweet, beguiling "Rhythm 2 Brass In Love." Few could deny his (musical) advances here.
GEORGE MICHAEL
Faith
Sony Legacy
$39.98





BOY GEORGE
Ordinary Alien
Ultra Records
$16.11




It would be interesting to know what fresh ears make of Faith — especially among those who only know Michael from a couple hits, or worse, the tabloids. But it's hard to imagine anyone not appreciating the artistry and skill on display here. Faith has to register as one of the very best pop albums ever recorded, from the quality of the music and lyrics, to the cohesiveness of the packaging, which Michael handled all his own. Though the now-retired star's output the last two decades — really, since 1990's Listen Without Prejudice, Vol. 1 — has been subpar, Faith makes you pine for more. Come on George, one more try?
WHILE AMERICA LOOKED the other way, Boy George became a popular DJ, in demand at clubs around the world. America, it seems, was too busy caught up in the controversy over George's repeated trips to jail. And straight society would just rather not have to deal with the flamboyant gay British singer, period. But the release of a new solo set, George's first in well over a decade, is just the first salvo. Later this year, George will reunite with his Culture Club cohorts to tour, and next year the '80s hitmakers plan to release an album of all-new material.
The mainstream — and many others besides — will be content to wait until Culture Club returns. George's Ordinary Alien is simply for die-hard fans or those deeply entrenched in club culture. The set's 15 songs are too long for radio — the shortest song clocks in at over four minutes, and most come in at the six-minute mark. Few of them are strong enough to justify that standard club length. Written with dance producer Kinky Roland, Ordinary Alien traffics in steady-flow techno, with mostly standard-fare musical touches and ho-hum lyrics. "Yes We Can" dresses up for the dance floor a sample of President Obama and cheering crowds, an exercise that might not have