Aladdin doesn't appear in Mary Zimmerman's The Arabian Nights. Neither does Sinbad the Sailor. Both fairy tales weren't originally part of the stories of Scheherazade, as collected in One Thousand and One Nights. They were added by Western translators, then abetted by Hollywood.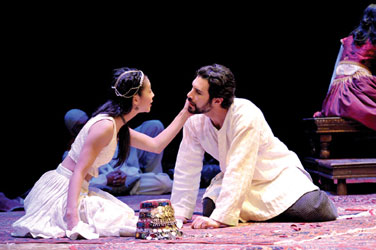 Arabian nights
(Photo by Sebastian and DeSantos by Stan Barouh)
But even if you've never heard or don't remember any of the other classic Arabian tales, you'll no doubt be charmed just the same by Arena Stage's transporting production, which offers a magic carpet ride through several dozen delightful Arabian anecdotes and allegories, lessons in life passed down through the centuries.
When asked the main aim of life, Sympathy the Learned (the exceptional Susan Jamshidi) answers without hesitation, "to cultivate enthusiasm." Certainly, The Arabian Nights wildly succeeds in that pursuit. Mary Zimmerman grows yet another metaphorical garden in D.C., so soon after her spectacular Candide at Shakespeare Theatre in December. Zimmerman creates a feast for the eyes and guides us through yet more exotic lands, revealing just how foreign humanity's concept of foreignness ultimately is.
Zimmerman was first inspired to adapt these Arabian tales for the stage after the 1990 Gulf War. It's just as timely and relevant today.
The play is built around Scheherazade, who literally tells stories to save her life from King Shahryar. Shahryar has wed and killed countless young women, all in warped revenge for his first wife's infidelity. A born storyteller, Scheherazade slowly vanquishes the king when it's her time to subject. He puts off killing her night after night, as she relates one more delightful moral, funny or sad tale than the next, keeping him enthralled.
The incredibly versatile Stacey Yen performs as Scheherazade, often doing double duty, shadowing or mimicking protagonists in the stories she narrates. But standout performances from Yen and Jamshidi (who also plays a lesbian butcher) notwithstanding, this is an ensemble piece through and through, and all 14 actors are uniformly superb. They're always onstage, reclining in the shadows of Arena's in-the-round Fichlander stage when not in the spotlight. Many also occasionally do double-duty as musicians, beating various percussive instruments, strumming strings or wailing musical refrains. The ensemble acts as a well-rehearsed orchestra. The cast rotates around the central stage and rifles through a handful of tales toward the end in a cacophonous climax, a metaphorical nod to the fact that the tales play themselves out, in some way or another, every day around the world.
The show does demand your attention — Daniel Ostling's minimal, evocative set, mostly just overlapping carpets and raised lanterns, is an accent piece, not a story in itself. Words are what drive this show. But even if you struggle to stay focused here or there, missing the clever details won't mean you miss the point. The world created in Arena's theater in the round is so fantastical, you can get lost without worry, or even want, of being found.
YOU CAN'T HELP but be amused by Tony Cisek's colorful, cartoonish set for Folger Theatre's production of The Comedy of Errors. The Victorian-era set transports you to an earlier, gentler, more eccentric era, a time when the smartest comedies trafficked in limber word play and confusing circumstances — but slapstick and adolescent pranks reigned above all.
Shakespeare's farce centers on two sets of identically named, identical twins — Antipholus and Dromio — separated at an early age by a shipwreck. The brothers don't grow up together, which sets in motion a spiraling chain of events over mistaken identity as the four eventually come to be in the same town, interacting with friends and family in conflicting disarray to all. Director Aaron Posner has heightened the comedic confusion by having his male characters wear masks, designed by Aaron Cromie. Though the leads playing the twins don't actually look alike, the masks serve the purpose of disorienting a viewer anyway.
THE ARABIAN NIGHTS





To Feb. 20
Arena Stage
$55-$70
202-488-3300
arenastage.org

THE COMEDY OF ERRORS



AND A HALF
To March 6
Folger Theatre
$30-$60
202-544-7077
folger.edu
As if that weren't enough, Posner adds another layer of farce, launching the show with a short mockumentary about the Worcestershire Mask and Wig Society, a fake British troupe said to be putting on this play as a family. In other words, the actual, unrelated American actors in this production are also playing as if they're British, complete with British accents. It's a strange conceit, and fortunately one that only distracts in the beginning — and then again, as you flip through the double-trouble program. It adds an extra hurdle to identifying who's who in the production.
Among the sharp cast, Nathan Keepers and Darius Pierce are the show's anchors, playing the physically funny and endlessly entertaining Dromio clowns. Suzanne O'Donnell steals the show as the hysterical Adriana, especially in the second act, when she grovels with abandon before the Duke, pleading with him to pardon her husband, the master Antipholus. And Jesse Terrill offers unexpected humor as a one-man band on the side of the stage, offering musical bells and whistles helping keep you from trying to make sense of the whole show. Better to just go with the flow.