While being discharged from the military just for being gay can deal a gut-wrenching blow to a member of the armed forces, it's certainly nice to see the victims of "Don't Ask, Don't Tell" land on their feet. On Friday, Feb. 4, locals will get the chance to see more than that — they can get an autograph.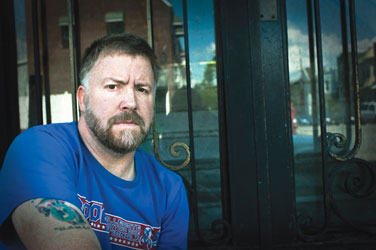 Justin Crockett Elzie
(Photo by Jo Ann Santangelo)
Justin Crockett Elzie, "The FIRST U.S. Marine Discharged Under 'D.A.D.T,"' as the promotional material announces, will be signing copies of his book, Playing By The Rules, at DC Bear Crue's Bear Happy Hour at Town Danceboutique.
"I came out in 1993, and '93 to '97 is when everything happens," Elzie says of Rules. "The way the book is done, the first chapter is the day I came out. The second goes back to my childhood, then Bible college, being bullied. It ends with the day I got out in '97. It's very fast-paced.
"Some people are surprised I wrote it in four months. But I had six boxes of paperwork I'd kept over those years, so it was really just a matter of putting everything in chronological order and then writing about how I felt at the time," he says. "It was like re-living it all over again."
If, along with picking up a signed copy, you'd also like to see Elzie recreate some of those emotional moments, you may be in luck. He has recently finished acting classes. A kind request – or possibly an assertive order, if he's feeling wistful for his Semper Fidelis days – might get him into character, even if that character is simply his younger self.
"I really wanted to make a life change and do something I loved," he says. "Some encouraged me. Some thought I was crazy making a total career change to acting and writing."
But if Elzie could manage the Marines, can Broadway be far behind? — Will O'Bryan
Justin Crockett Elzie signs copies of Playing By The Rules, Friday, Feb. 4, during DC Bear Crue's Bear Happy Hour, 6-11 p.m., at Town Danceboutique, 2009 8th St. NW. Visit towndc.com.