The Maryland bill aiming to grant same-sex couples legal marriage rights while granting specific exemptions to religious institutions opposed to marriage equality, arrived on the Senate floor earlier today.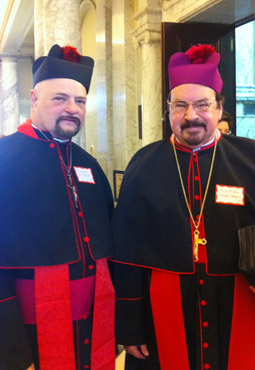 Rev. Joseph F. Steward (left) and Rev. William H. Christ
(Photo by Yusef Najafi)
A full Senate vote on The Religious Freedom and Civil Marriage Protection Act is expected by Friday, while introduction of similar legislation is expected in the House of Delegates by Feb. 25.
A small group of marriage-equality supporters, including volunteers and members of Equality Maryland, gathered outside Maryland's State House in Annapolis at 9 a.m. this morning, an hour before the Senate session began.
Equality Maryland organized the gathering to allow constituents a chance to express gratitude to the 18 state senators who co-signed Senate Bill 116, as well as those senators who came out publicly with statements in support of the bill in the last few weeks.
While 24 votes are needed for the bill to pass the Senate, a recent commitment from Sen. James Carew Rosapepe (D-Prince George's, Anne Arundel), gives bill supporters those two dozen votes.
In opposition, 21 senators have declared themselves to be in the anti-marriage-equality bloc. Two senators, John Astle (D- Anne Arundel County) and Joan Carter Conway (D-Baltimore City), have not pledged either way, although Lisa Deane-Polyak, Equality Maryland vice president, told Metro Weekly that Conway has been advising constituents that if circumstances leave her as the deciding vote, she'll support marriage equality. Conway's office did not return a request for confirmation.
Inside the capitol Tuesday morning, marriage-equality supporters included Rev. Joseph F. Steward and his life partner Rev. Monsignor William H. Christ of Baltimore, archbishop and vicar general, respectively, of their own New Catholic Church of North America.
"Personally I think it's something that we desperately need in Maryland," Christ said of marriage equality. "We're in the 21st century and I know there's been a lot of other clergy that oppose it because of biblical beliefs, and to me those beliefs don't hold water. Because if you were to follow the Bible by the letter of the law we would have laws allowing bigamy and we would have laws outlawing divorce. We're all human beings and we're all children of God. You see so many times people saying 'What would Jesus do?' And given today's day and time, I think Jesus would perform a same-sex marriage between two people who love."
Sen. Jamie Raskin (D-Montgomery), who co-authored the bill along with Sen. Rich Madaleno, the only openly gay member of the Senate, introduced the bill on the Senate floor this morning.
"Under the terms of the act, an official of a religious institution or body who is authorized to solemnize marriages, may not be required to solemnize any marriage in violation of the First Amendment of the Constitution, or Article 36 of our Constitution," he explained. He added that amendments to the bill would allow that same freedom to "a religious organization, association or society, or any nonprofit operated by one," with protections from civil claims or withholding of government benefits.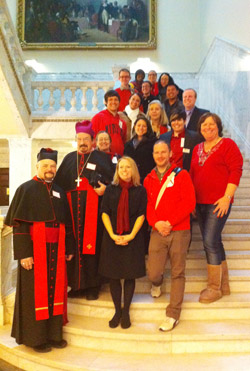 Equality Maryland supporters
(Photo by Yusef Najafi)
Senate President Thomas V. Mike Miller Jr. afterward opened the floor to questions. As there were none, he set discussion of the bill to begin tomorrow, Feb. 23.
And while it seemed that the Senate Bill 116 had passed its first hurdles, Equality Maryland Executive Director Morgan Meneses-Sheets encouraged supporters to return Wednesday.
"Seeing your faces … and hearing your 'thank yous' as they go to the chamber … it's incredibly powerful," Meneses-Sheets said, adding that Equality Maryland is also running phone banks to thank senators supporting the legislation.
"We're going to be just warm and fuzzy all week," she said with a laugh. "The moral high ground belongs to us."
Meneses-Sheets told supporters that Equality Maryland expected more "substance" with floor debates Wednesday, adding that it was crucial for the group of supporters to grow in the coming days, particularly Friday, Feb. 25, when the House of Delegates version of the marriage bill will likely be introduced in the Judiciary Committee.
"Let's keep the crowd going so tomorrow we're twice as big, Thursday we're three times as big," she said. "We have to turn out lots and lots of people just like we did in the Senate and fill every seat in that committee room.
"We're going to make this happen."