Hundreds of supporters and opponents of legal recognition of same-sex marriage in Maryland filled the state's Senate Judicial Proceedings Committee room in Annapolis on Tuesday, Feb. 8, for the first testimony hearing regarding that bill that could make those marriages legal, Senate Bill 116.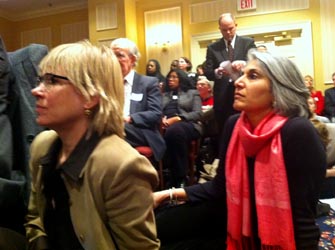 Lisa and Gita Deane-Polyak
(Photo by Yusef Najafi)
The Religious Freedom and Civil Marriage Protection Act was written by Sen. Rich Madaleno (D-Montgomery), the only out gay member of Maryland's Senate, and Sen. Jamie Raskin (D-Montgomery), both of whom were present during the day's events. If passed, the bill would grant same-sex couples legal marriage rights in the state of Maryland, while also protecting the rights of religious institutions to handle issues of marriage equality however they see fit.
"My husband and I married in a church ten years ago," Madaleno said during an Equality Maryland press conference preceding the bill hearing, "[W]e now have two wonderful, sometimes taxing, children," adding that he wishes to see the day in which Maryland becomes the sixth state to allow same-sex couples to marry in the United States.
"We look forward to the day, in about hopefully six or seven weeks when we can celebrate the actual passage of this bill and Maryland can step up and be truly 'the free state' once again."
Before the hearing, which began at about 1 p.m. and lasted into the evening, Senate president Thomas Miller (D-Calvert, Prince George's), who opposes same-sex marriage, declared that he predicts about a 70 percent chance that the bill will pass the Senate's chambers, adding that a Senate vote is expected next week. The Senate's Clerk Office reported that votes on such matters usually occur on Wednesdays, which would be Feb. 16.
More than three hours before the hearing began Feb. 8, a crowd already had gathered at the Maryland State Senate Building. In several ways, it resembled that of Washington, D.C.'s City Council in the fall of 2009, before same-sex marriage became legal in the District. In Annapolis, some familiar faces in the crowd were of residents of Maryland who had come to the District in 2009 to talk about their opposing viewpoint – as well as some who came from the District to oppose the Maryland bill now being considered.
But the majority of people in Annapolis, mostly wearing red to signify love, were there to express support for Senate Bill 116, talking about how it could benefit the state's economy and why it's crucial for the advancement of human rights and equality.
Supporters included people of all different backgrounds and ages. From 10-year-old Bena Williams, who expressed frustration at the notion that her parents cannot get married, "It's not like they're from outer space," she said, to Republican Sen. Allan Kittleman who said earlier that passage of the bill was "the right thing to do."
Also testifying in favor of the bill was gay Republican Chrysovalantis Kefalas, who was the deputy legal counsel to former Maryland governor Robert Ehrlich Jr.
"Marriage defines our place in a community," Kefalas said, adding that "without marriage there can be no true equality under the law."
Other supporters included Darrell Carrington of the Maryland Black Family Alliance, who compared prohibition of same-sex marriage to racism and said homophobia was at the root of not having marriage equality.
"Discrimination is wrong no matter who the victim is."
Gita and Lisa Deane-Polyak, who have been together for more than 30 years, have also become prominent faces in the fight for equality in Maryland. They were among the several couples involved with the 2004 lawsuit challenging as discriminatory Maryland's state statute that defines marriage as a union between a man and a woman.
On Tuesday, the Deane-Polyak's 14-year-old daughter Maya joined them in Annapolis to offer her perspective on how a lack of legal recognition between her two moms impacts her even during life's simple moments, such as swiping a bonus savings card at a grocery store.
"The clerk explained to my mom that we were not able to use the card because Lisa's name was not on the card and because she was not married to my mom," she said during her testimony in front of the Maryland State Senate.
"As I stood there watching it all happen, so many different emotions came over me – embarrassment, sadness, hurt – but mostly I just felt helpless and angry. Helpless that I could not help my mom … that I could not make it better."
Army veteran and Purple Heart recipient Gina Foringer talked about serving in Somalia, returning home to her partner of nearly 25 years and how her partner helped her combat Post Traumatic Stress Disorder.
Foringer added that she and her partner left Virginia in 2005 – after the Virginia legislature "eviscerated legal relationships between domestic partners" – for what they percveived as more liberal pastures in Maryland.
"We chose Maryland and Baltimore because of the state's commitment to non-discrimination and equal opportunities to all residents," she said.
"With the imminent repeal of Don't Ask Don't Tell, we will now be able to serve openly …. It is time for this state to provide the same freedoms that the military community is now seeking to provide us. We fight for freedom. Let us have it."
But many of the 150 people signed up to testify during the hearing, which lasted about six hours, did not agree with Foringer's testimony. They opposed the measure that would grant same-sex marriage rights in Maryland, citing religious scripture and the family unit. Some described the measure as an "attack" on the sanctity of marriage, and others like National Organization for Marriage board chair and former president Maggie Gallagher testified about what she said SB 116 would do to the "public understanding of marriage."
"The reason that marriage is a virtually universal human social institution that reoccurs again and again in different cultures, and different religious backgrounds, is that humanity recognizes that we need a special institution to bring together a male and female to make and raise the next generation," Gallagher said.
"To get to gay marriage requires that we repudiate this as a public purpose of marriage," she said, adding that "the only way that we can give our children the benefit of a mother and father in a single family is to first pledge to a permanent, faithful, sexually exclusive union of man and woman."
Despite Gallagher's testimony, the mood throughout the hearing remained optimistic. Now, supporters await the next steps in coming weeks.
For more information about Senate Bill 116, visit equalitymaryland.org.