Legislators in Maryland are scheduled to vote in committee on the Religious Freedom and Civil Marriage Protection Act on Thursday, Feb. 17, according to Judicial Proceedings Committee chairman Brian E. Frosh's office.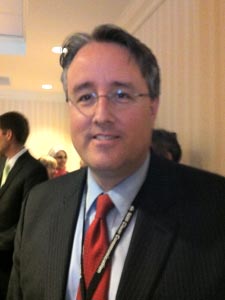 Madaleno
(Photo by Yusef Najafi)
"It's going to happen on Thursday," Brenda Smith, appointment secretary for Frosh's office, told Metro Weekly regarding a committee vote on Senate Bill 116, on Tuesday, Feb. 15.
According to Smith, the committee will begin the day with hearings followed by votes on bills tentatively scheduled to begin at 1 p.m. Smith adds, however, that because hearings can go later than expected depending on how many witnesses are present, it's difficult to say exactly when voting on bills will begin.
But Smith adds that the vote will occur on Thursday, even if it is in the evening.
"If they schedule it on Thursday, then it will happen on Thursday," she said. "It may be as late as 8 o'clock."
According to the Judicial Proceedings Committee there are 11 bills on the schedule for Thursday. If there is a positive committee vote, the bill will then be put to a floor vote.
The Religious Freedom and Civil Marriage Protection Act was written by Sen. Rich Madaleno (D-Montgomery), the only out gay member of Maryland's Senate, and Sen. Jamie Raskin (D-Montgomery). If passed, the bill would grant same-sex couples legal marriage rights in the state of Maryland, while also protecting the rights of religious institutions to handle issues of marriage however they see fit.
The announcement regarding the committee vote follows developments on Feb. 14 in which Sen. Katherine Klausmeier and Sen. Edward J. Kasemeyer stated that they would vote in favor of Senate Bill 116. Kasemeyer and Klausmeier's support brings the number of Senators in favor of its passage to 23.
On Wednesday, Feb. 16, Sen. Ulysses Currie told the Washington Post that he would be voting against the bill. That leaves two senators — both Democrats — who have not declared how they will vote on the bill. They are: Sen. John Astle and Sen. James Rosapepe.
Twenty-four votes are needed in the full state Senate for the bill to pass.
Sen. Joan Carter Conway has not released an official statement in support of the bill, but according to Lisa Deane-Polyak, vice president of the board of directors at Equality Maryland, Conway has told her constituents that if Senate Bill 116 receives 23 votes, she will cast the 24th vote in favor it. A request for comment from Conway's office was not immediately returned.