This morning, President Barack Obama addressed the National Prayer Breakfast, an annual event sponsored by The Fellowship — also known as The Family, where he discussed his prayers for recovery for Rep. Gabrielle Giffords (D-Ariz.) and an end to violence in Egypt.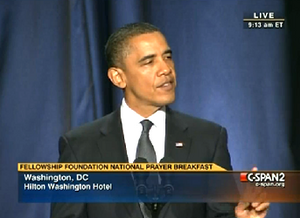 Calling attendance a "tradition that I'm proud to uphold," Obama discussed his upbringing, including "the equal worth of all men and all women."
"Despite the absence of a formal religious upbringing," he said, the religious civil rights leaders were some of his earliest role models. He spoke up his work as a community organizer, his marriage to Michelle Obama and how "these past two years, they have deepened my faith."
Calling his faith a "sustaining force," Obama referenced questions about his faith, saying it has been "all the more so when Michelle and I hear our faith questioned from time to time."
Talking about his personal, recurring prayers, he said that, first, "I pray for my ability to help those who are struggling.
"The second of my recurring themes is a prayer for humility. … It's useful to go back to Scripture to remind us that none of us has all the answers."
The third prayer, he said, was aimed at becoming closer to God, saying that he prays that "[w]e might every so often rise above the here and now."
[Watch Obama's address at C-SPAN.]
Unlike last year's breakfast, in which Obama dealt directly with anti-LGBT legislation being considered in Uganda, Obama did not address LGBT issues in his speech.
Outside the Washington Hilton, however, Get Equal and a handful of activists held a "Breakfast Without Bigotry" — which Get Equal described on Facebook as an event to " protect our lives and speak up for those who can't for fear of imprisonment and murder" — to protest The Family's sponsorship of the event.
Earlier this week, Get Equal managing director Heather Cronk wrote in an email, "We must act now to intercede in the imprisonment or death of more of our Ugandan sisters and brothers — and to make it clear that eradicating us, whether in Africa or America, will not be tolerated."
Metro Weekly was at the Get Equal protest …