Sunday was somber as news spread about the passing of local gay activist Jeff Coudriet. After several months of battling lung cancer, Coudriet, a native of Endicott, NY, succumbed to the illness on Saturday, Feb. 5 at the age of 48.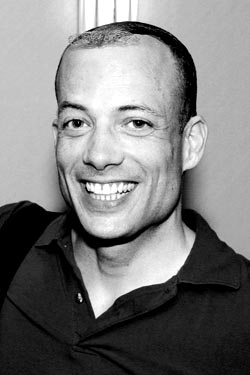 Jeff Coudriet
(Photo by Henry Lisner)
John Coudriet, Jeff's brother, used Jeff's Facebook page to announce the news.
"Jeff passed away peacefully last night," he wrote. "We are grateful for all of your prayers and support through his battle with cancer. He will be missed dearly."
Coudriet was prominent in the local LGBT community for his contributions in helping to repeal D.C.'s sodomy laws. Most recently he worked as committee clerk for Jack Evan's Committee on Finance and Revenue. Prior to that, Coudriet was the director of operations at the Alcoholic Beverage Regulatory Administration.
"He was really quite an inspiration and taught me a lot about being an activist and getting laws passed," said local gay activist Bob Summersgill, who first met Coudriet in 1991 when he was getting involved with the Gay and Lesbian Activist Alliance (GLAA). "He was always very very funny. He had a very quick wit and he turned anything around and joked about it."
Coudriet even used humor to offset the severity of his illness. In one example, he posted a picture of fake lashes on his Facebook page, writing "when the going gets tough, the tough get new eyelashes! f*ck chemo!"
In a statement released on Feb. 5, Evans mourned Coudriet's passing.
"It is impossible to put into words the contributions Jeff made to our city and its residents," Evans said. "My staff and I share the grief and extend our condolences to Jeff's family and friends, and deeply mourn his passing."
In the 1990s, Coudriet was prominent in the local gay community as the president of the Gertrude Stein Democratic Club as well as the president of the GLAA from 1992 to 1995. He also worked for Rep. Maurice Hinchey (D-NY), D.C. Councilmembers Sharon Ambrose and represented D.C. on the Electoral College in 1996.
In a statement released yesterday, GLAA's Richard J. Rosendall expressed sympathy.
"He was smart and funny and wise, and it's hard to believe he's gone."
A memorial service has been scheduled for Wednesday, February 16 at 11 a.m., at the Foundry United Methodist Church, 1500 16th Street, NW.