What movie are you rooting for to win at this Sunday's Academy Awards? The Kids Are All Right? Black Swan? As long as you like film — even if you're rooting for Toy Story 3 – The Center's Oscar-watch benefit at Town this Sunday, Feb. 27, is the place to be.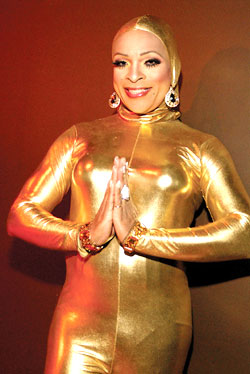 Glamour, Glitter & Gold
(Photo by Ward Morrison )
"Film brings people together from all walks of life and backgrounds," says Joseph Palacios, a board member of The Center, the area's LGBT community center, who co-created the gala six years ago with Metro Weekly's Randy Shulman. He was inspired by a similar party the Trevor Project hosts in West Hollywood. After years at several smaller bars around town, Glamour, Glitter & Gold moved to Town last year. "Last year's event was very multi-cultural, and multi-age. It's become The D.C. Center's signature event for community building," says Palacio. One hundred percent of ticket proceeds go The Center.
The gala kicks off at 7 p.m. with a red carpet meet and greet. "People can come in and take pictures, and feel like celebrities," says The Center's Michelle Ross, chair of this year's event. Shulman and Lena Lett are this year's co-hosts, mostly taking the stage between breaks in the live broadcast from Hollywood.
Ross talks up the benefit of purchasing a $50 VIP ticket: reserved seating in a roped-off area, catered food and "a wonderful swag bag with a lot of movie memorabilia, T-shirts, DVDS." As for a dress code, Ross says since the move to Town, especially, "it's turning into more of a formal affair now, with a lot of folks coming in tuxedos and black dresses. But you can definitely dress comfortably as well."
Who will you be wearing? As long as it's not James Franco's severed arm, you should be golden.
Glamour, Glitter & Gold is Sunday, Feb. 27, from 7 to 11 p.m. at Town Danceboutique, 2009 8th St. NW. Tickets start at $20 general admission. Call 202-234-TOWN or visit towndc.com or thedccenter.org.