Gregg Araki's Kaboom is a gay, sexually charged version of Donnie Darko. It's destined to either become a cult classic or fade into obscurity. The vast majority of audiences — those who prefer a straightforward, linear narrative — are going to leave thinking that Kaboom is a self-indulgent, sex-filled film that makes no sense. To be fair, they're right. But that's probably the point of it.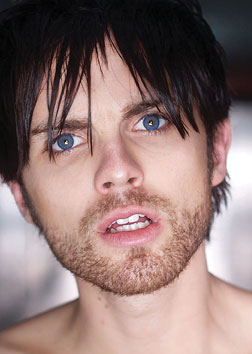 Kaboom
(Photo by Marianne Williams)
Araki, who also directed the haunting Mysterious Skin, returns with a hedonistic coming of sexuality story. Smith (Thomas Dekker) is 19, horny as hell, and trapped in a contradictory limbo of sexual frustration and liberation. He longs for his roommate Thor (Chris Zylka), but is sleeping with a random girl from a party (Juno Temple). Meanwhile, his best friend Stella (Haley Bennett) has just started dating a witch — a real one who uses the dark arts, in and out of bed.
If making it through the semester wasn't hard enough, Smith starts to have recurring dreams about a dumpster, a red-headed girl who might have been killed by people with animal heads, and the sneaking suspicion that he has a role to play in the end of world. Clearly, suspending disbelief is a prerequisite for enjoying Kaboom.
As things get more and more bizarre, the film remains grounded in the terrific performances by the young cast. As the sexually indiscriminate Smith, Dekker never crosses the line to B-movie camp, though the potential is there with every plot development. But it's Bennett as the sardonic Stella who really sells it. Bennett delivers the movie's best lines in a tone that's completely disinterested yet fully committed.
Araki, who also wrote the screenplay, is working two different angles. The first is the more realistic aspect of Smith's existence. The strange situations that he and his friends encounter as they make their way through college are outrageous, such as returning to your dorm room to find your roommate training for auto-fellatio. The dialogue is a sarcastic barrage of witty one-liners and wry observations delivered by self-indulgent teenagers pretending to be more mature than they are. This angle can be enjoyed in the moment and would still make a solid movie if left alone. On another level, Araki is toying with a science-fiction story that doesn't ever really gel. The film gets more outlandish as it goes, transitioning from quirky situations to wacky, religious-based conspiracies. In a world of masked men, kidnapping, and witchcraft, the final moments might be too much for even the most indulgent audiences.
The comparisons to Donnie Darko are almost inevitable. But while director Richard Kelly ensured every scene of his film fit the overall sci-fi conceit, Araki doesn't seem concerned with justifying his material. Kaboom has a trippy sense of blurred reality and impending doom, but there's so much sexually charged energy bouncing around that it's hard to concentrate on the potential apocalypse. Which sounds about right for college students. So settle in, enjoy the ride, and don't concentrate on all the loose ends in an otherwise highly entertaining film.
FOR THE SECOND year in a row, the fact that there are 10 films in the Best Picture category means only one thing: eight films, instead of three, have no chance of winning. Rather than infuse new energy and excitement into the Oscars, the change makes the whole night feel like an oversized dinosaur lumbering toward extinction. Hopefully co-hosts James Franco and Anne Hathaway produce enough charm and energy to keep us up until the end to see if our predictions come true.
Best Picture – The Social Network was the early front-runner, but The King's Speech has sweet-stuttered its way into people's hearts. Our prediction: The King's Speech.
Best Actor – Only one man truly needs to prepare a speech in this category, and it's about time. Colin Firth is a sure thing, and we're very excited about that. Our prediction: Colin Firth, The King's Speech.
Best Actress – If there's one category that presents an internal struggle this year, it's this. It's down to Natalie Portman's psycho ballerina and Annette Bening's controlling lesbian mom. And as much as we're pulling for the wine-swilling, Joni Mitchell-singing mom, Portman did crazy extremely well. Our prediction: Natalie Portman in Black Swan.
Best Supporting Actor – Christian Bale focused all of his energy and angst at the camera rather than the crew, and gave a knockout performance. Our prediction: Christian Bale in The Fighter.
Best Supporting Actress – As much as we love Hallie Steinfeld's true grit, Melissa Leo's experience and big hair just tower over the girl. Winner: Melissa Leo in The Fighter.
KABOOM





86 Minutes
Not Rated
Opens Feb. 25
West End Cinema

THE OSCARS
Sunday, Feb. 27
8 p.m.
ABC
Best Director – We're betting that the Academy goes rogue again this year and awards Best Picture and Best Director to different films. Fincher compelled us to watch a man we would rather defriend. Winner: David Fincher for The Social Network.
Best Original Screenplay – As much as we'd love to see The Kids Are All Right win this category, it would be a bittersweet win given the (SPOILER ALERT!) odd choice to have one of the lesbians sleep with their kids' bio dad. Anyway, it probably won't matter given the eloquence of The King's Speech. Winner: David Seidler, The King's Speech.
Best Adapted Screenplay – While Inception was far more creative, a win for the film is probably just a dream. Winner: Aaron Sorkin, The Social Network.
Best Animated Film — Pixar has enough Oscars under its belt, and Toy Story 3, while entertaining, didn't hold a candle to the wonder, wit and wisdom presented in How to Train Your Dragon. The wildcard upset here would be the lavish, hand-drawn French entry, The Illusionist. Our Prediction: How to Train Your Dragon.