In an almost perfect summary of the life and times of GOProud, Donald Trump was an invited guest of the group on the opening day of CPAC this past week and then went on Fox News four days later to declare his opposition to "gay marriage," as he put it to Greta Van Susteren.
"New York is a place with lots of gays, and I think it's great," he said. "But I'm not in favor of gay marriage."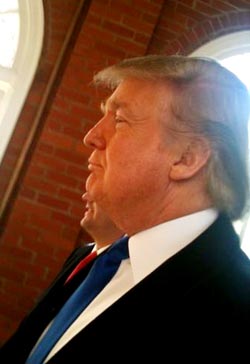 Trump
(Photo by Chris Geidner)
So it goes for GOProud board Chairman Chris Barron, who replied that "Mr. Trump now has the same position as President Obama."
He added, "Mr. Trump showed real courage coming to CPAC at GOProud's request in the middle of the boycott by anti-gay groups."
While true – Trump did tell reporters upon arrival that he had "a lot of respect" for GOProud – he did not mention the group to the CPAC attendees when he addressed the crowd on Feb. 10.
In fact, the most significant comments about GOProud came on Feb. 12 from Ann Coulter, who was asked during the question-and-answer portion about "the controversy at CPAC surrounding GOProud."
Coulter said, in part, "The left is trying to co-opt gays, and I don't think we should let them. I think they should be on our side. We're for low taxes. We're against crime. We're against the terrorists who want to kill gays. Gays are natural conservatives."
The CPAC presidential straw poll, though skewed younger and more libertarian than the Republican primaries, provided some limited support for Coulter's argument.
Of the 3,742 votes – more than half of whom were 25 or younger – the winner of the CPAC presidential straw poll was Rep. Ron Paul (R-Texas), who voted for "Don't Ask, Don't Tell" repeal. He received 30 percent of the vote.
When the respondents were asked what the most and second-most important issues were to them personally, only 5 percent of the respondents chose "promoting traditional values" and only 3 percent chose "protecting traditional marriage."
Log Cabin Republicans Executive Director R. Clarke Cooper pointed to that fact as a sign that conservatives are not focused on social issues.
In a statement, Cooper said, "With polls of CPAC attendees overwhelmingly showing that the movement's top priorities are addressing government spending, job creation and the economy, Log Cabin Republicans will continue to push the GOP to stay focused on the fiscal issues which matter most to Americans today."
Among the other top finishers in the straw poll was former Massachusetts Gov. Mitt Romney (R), who came in second with 23 percent. Former New Mexico Gov. Gary Johnson (R), an unknown to many, had attended GOProud's "Big Party" on Feb. 10, and tied for third – at 6 percent – with New Jersey Gov. Chris Christie (R). Although Christie had made his opposition to marriage equality an issue in his election campaign, he also signed a strong anti-bullying bill into law with the support of LGBT advocacy groups.
Meanwhile, it wasn't all fun and parties for Barron, who found himself in the unusual position of apologizing for calling D.C. lawyer Cleta Mitchell "a nasty bigot" in an interview with Metro Weekly that was published online the day before the start of the conference.
Barron told the FrumForum on Feb. 10, "For the past six months, we have watched as unfair and untrue attacks have been leveled against our organization, our allies, our friends and sometimes even their families. Everyone has their breaking point and clearly in my interview with Metro Weekly I had reached mine. I shouldn't have used the language that I did to describe Cleta Mitchell and for that I apologize."
In the FrumForum article, the new chairman of the American Conservative Union, which hosts CPAC, took aim at Barron's comments. Al Cardenas said, "I have been disappointed with their website and their quotes in the media, taunting organizations that are respected in our movement and part of our movement, and that's not acceptable. And that puts them in a difficult light in terms of how I view things.
"It's going to be difficult to continue the relationship [with GOProud] because of their behavior and attitude."
The next day, LCR's Cooper praised Cardenas in a news release.
"I am particularly glad to see the new chairman of the American Conservative Union, which coordinates CPAC, Al Cardenas," he said. "I had the pleasure of working with Chairman Cardenas while I served Governor Jeb Bush and he was Chairman of the Florida Republican Party."