You want a telling sign that Adele Adkins, known by just her first name, has talent to spare, that she's the genuine article? How about this? She can make anyone love a track produced by Ryan "OneRepublic" Tedder. Tedder is the shlockmeister behind hits "Apologize," "Bleeding Love," "Halo," "Already Gone" and so many others all made out of the same cloth, just with different singers. They all have the same melodramatic, over-processed aesthetic. It's not bad, per se, but it can be too much to take, leaving you feeling gooey.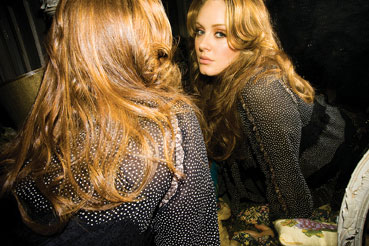 Adele
(Photo by Andrew Yee)
But Tedder's work with Adele on her new album 21 sounds little like that. "Turntables" is a dramatic ballad, sure, but neither the orchestral swells nor Adele's vocalizations overdo the sentiments. And the magnificent "Rumor Has It" swaggers to a swampy, bluesy beat, with a backing chorus parading around Adele and lyrics running around like conflicting rumors. Is Adele's lover leaving her for another? Or is Adele the other woman? Or is he the other man? The answer changes from verse to verse. You can't believe everything you hear, she's relaying. Sometimes, you don't know what to believe.
In fact, maybe it's not fair to credit Adele for Tedder's improved output here. We weren't there during the recording process; who knows which party had the dominant musical ideas? (Saying otherwise is how rumors get started.) But anyone who might have worried about a watering down of the British singer's sound from working with uber-producers — Tedder, Greg Wells, Fraser T. Smith and especially Rick Rubin — can sigh with relief, and then gasp. For 21 is something close to a revelation. It's beyond what Adele hinted at with her promising 2008 debut 19. Back then, she came across as a moodier version of Duffy — but still nearly as beholden to tender, down-tempo balladry as her compatriot.
Her music never threatened any unsuspecting souls at the local Starbucks.
Her second time at bat, Adele set out to ramp things up. "In real life, I'm sarcastic and very cheeky," she says in 21's press release. "I don't think the playful me came across on the first album."
ADELE
21
Columbia
$11.98




1/2
Available
Feb. 22
Adele is still not the second coming of Amy Winehouse — she's not nearly that wild or unhinged. The set's most powerful track, after all, is the searing but tender "Someone to Love," in which Adele pines for the one she considers the love of her life, who's moved on. "Don't forget me, I beg," she pleads. "I'll remember you said, 'Sometimes it lasts in love, but sometimes it hurts instead."' Her delivery of the freighted lyrics makes your heart break even more.
All throughout 21, Adele, now 22, expresses deep pain as she struggles to get over a love that went sour. She even offers a forcefully felt, acoustic version of The Cure's "Lovesong." In that respect, and in her contemporary take on old-school soul, she may remind you of Cee-Lo Green and his dazzling 2010 set The Lady Killer — without offering anything quite as acerbic as "Fuck You," of course. In the end, Adele has turned out a thrilling album that draws inspiration from soul legends, past and present.
Adele turns up the heat from time to time. She kicks off the proceedings with the rousing blues of first single "Rolling In The Deep." "The scars of your love remind me of us," she sings. "They keep me thinking that we almost had it all." The backing chorus sings with an echo, as if they were recorded in an empty concert hall — or coming straight from Adele's empty heart.
Next comes "Rumor Has It," which just builds and builds, with dramatic pauses, swirling vocals, patty-cake handclaps and pulsing drums. By song's end, you're dumbfounded.
And those chattering classes at Starbucks? They're sure to shut up and take notice, as well.