This weekend and next, Clay Comer plays a gay porn star at the DC Arts Center. "[Clay Comer] is 6-foot-5, a young, incredibly beautiful, incredibly built man," says Chris Griffin, who cast the actor as the lead in his short play TarXXXanadu. The musical parodies both Tarzan and Xanadu — and it's set at a gay porn studio.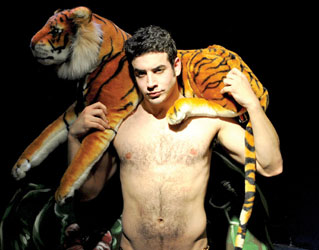 Tarxxxanadu
(Photo by Amanda Williams)
While there isn't actual sex or full-frontal nudity in the production, Griffin notes that "you get to see a lot of hot boys running around scantily clad…. Tarzan's loincloth is pretty ridiculously small. And he does cartwheels."
TarXXXanadu is just one of four short plays staged by Landless Theatre Company for its inaugural Mash-Up Festival. The festival grew out of a staged mash-up of Hollywood hits that Griffin had created at last year's Capital Fringe Festival, Carrie Potter at the New Moon Prom.
Griffin has made a name for himself in the edgier outer reaches of Washington theater, from his former affiliation with the outrageous Cherry Red Productions to his work in the musical comedy trio Eva Brontosaurus. Most people know him by his drag alter-ego, Lucretia Blozia.
Griffin dons drag to star in the similarly adult-only play paired with TarXXXanadu, Gleeam, written by Landless artistic director Andrew Baughman. The show spoofs Glee and Scream. "I am the dumb slut, the Brittany role on Glee," says Griffin. "I have a duet called 'Public Lesbian Makeout."'
Landless's earlier, all-ages show includes Kerri Sheehan's All That Jaws, which Griffin describes as "pretty Fosse," and Jon Gann's Pii-Wii's Big Poseidon Adventure. The Shelly Winters role is played by an actor in drag.
Griffin is already scheming about next year's festival. Right now, he's torn between ideas: either Rocky Horror Picture Showgirls or Josie and the Pussycats Kill Kill.
The Mash-up Festival runs Fridays and Saturdays through Feb. 26 at 7:30 p.m. for the all-ages show and 10 p.m. for adults only. District of Columbia Arts Center (DCAC), 2438 18th St. NW. Tickets are $25 each show, or $40 for both. Call 202-462-7833 or visit dcartscenter.org or landlesstheatrecompany.org.