[UPDATE @ 5:50 PM: Anton Tanumihardja will not be deported today.
According to Lavi Soloway, the order from the U.S. Immigrations and Customs Enforcement reads: "Therefore ICE will extend the Stay … until a decision is made by the [Board of Immigration Appeals] on his Motion to Reopen."]
At 1 p.m. today, Feb. 14, Anton Tanumihardja is scheduled to board a flight to Indonesia.
The flight will take the native of Indonesia out of the United States and place a 10-year bar on any attempt for him to return to this country to make it his home. It also, his lawyer argues in a request currently before the Board of Immigration Appeals (BIA) to reopen his deportation case, would mean that Tanumihardja "would face a constant threat of violence" if returned to Indonesia because he is gay.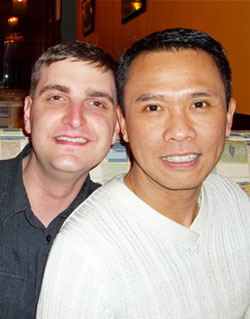 He also, immigration reform advocate Lavi Soloway told Metro Weekly, will be forced to leave his partner, Brian Andersen, who he met in recent years. Unlike a heterosexual couple, Tanumihardja's partner cannot sponsor him for immigration purposes. Legislation to address that, the Uniting American Families Act (UAFA) has attracted broad support and was included in the framework for comprehensive immigration reform proposed by Sen. Robert Menendez (D-N.J.) in 2010.
"What we are now advocating is that that discretion should be applied to bi-national couples," Soloway said on Feb. 13. "We're not asking for the administration to suspend the enforcement of immigration law. We're simply asking for them to delay the prosecution of those cases – to put them on hold, to literally press a 'pause' button – because there is a legislative fix in the works that the administration supports."
Why "pause" enforcement of existing law — especially, as even Soloway admits — there is a "pause" in immigration reform itself because of the make-up of the 112th Congress.
Soloway explained, nonetheless, that "[t]here are estimated to be 11-12 million people in the United States who are deportable. It's impossible for the administration to deport 11 million people — nor do they want to. We focus on high priority, which are convicted felons.
"When we have humanitarian reasons … and when the administration and Congress is working together to resolve specific issues through the legislative process. We do not typically rush people out the door in a deportation proceeding."
Soloway and others have been pressuring Rep. Robert Brady (D-Pa.) and Sen. Robert Casey (D-Pa.) to urge Homeland Security Secretary Janet Napolitano and the administration to take these actions in Tanumihardja's case.
After being placed in removal proceedings in 2003, an immigration judge denied Tanumihardja's request — made without the assistance of a lawyer, Soloway says — for asylum in 2006, a decision that was upheld by the BIA in 2007 and the U.S. Court of Appeals for the Third Circuit in 2008.
In September 2010, however, Tanumihardja filed the request to reopen his asylum request — with a lawyer's help — due to "deteriorating conditions for gays and lesbians in Indonesia since 2006." The way immigration law currently works, however, a request to reopen deportation proceedings does not stop any removal orders. (If it did, anyone subject to deportation could file a motion to reopen proceedings simply to stall deportation.)
Soloway told Metro Weekly that the local U.S. Immigrations and Customs Enforcement office in Philadelphia gave Tanumihardja a 90-day delay in his deportation after the September filing. That day ends today and, in order to prevent his arrest and detention, a flight leaving the country has been scheduled.
At the same time, however, the BIA has not yet ruled on the request to reopen the asylum request, a copy of which was provided to Metro Weekly. The request details that "[t]he evidence from 2006 forward is that the persecution of homosexuals in Indonesia is not only growing, but linked to regional 'perda' laws that reflect rapidly spreading Shari'a Islamic law and social values."
The motion goes on: "The evidence is also clear that the violence perpetrated against gays and lesbians is done not only by fellow citizens engaging with impunity in 'gay bashing,' but compounded by torture carried out by police and security forces."
The BIA has not ruled on the request. Because there is no stay on the deportation proceeding while the request is before the BIA, however, Tanumihardja is scheduled to leave the country today – essentially abandoning his request and his attempt to stay in the country.
Soloway, who launched a campaign — Stop the Deportations — in October 2010 along with Noemi Masliah. Founders of Immigration Equality, the two now are the partners in an immigration practice law firm, Masliah & Soloway.
Soloway is hoping, ideally, for "some kind of policy coming from [the Department of] Homeland Security" to allow certain individuals "in long-term, committed relationships … to make a motion for continuance that the government would then join, if several criteria were present: long-term committed relationship, no felonies, etc."
This, Soloway, points out would not be new for the Obama administration.
"It has twice dealt in a very special way with groups of individuals facing deportation. They put a moratorium on the widows of U.S. citizens in 2009, and, in 2010, the administration announced it would defer action on the deportation of individuals who are likely eligible under the DREAM Act," he said. "So, the administration has shown that it does use its executive branch muscle when it comes to discretion about who to deport."
He adds: "It is solely within their power to determine who gets deported and when they get deported.
"Failing that, I do think that there's also an opportunity here to open a dialogue on individual cases, looking on a case-by-case basis. So, this Indonesian individual, who presents a non-frivolous motion to reopen that's credible, it's strong, it's compelling — it should at least be given a chance to be decided."
Tanumihardja, Andersen and Soloway hope that Tanumihardja's case will be decided — or his deportation at least delayed — before his flight leaves the country this Valentine's Day afternoon.
[Photo: Andersen and Tanumihardja (Photo courtesy of Brian Andersen.)]