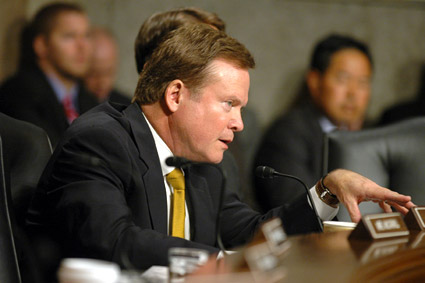 [Photo: Sen. Jim Webb (D-Va.) questions senior military leadership about the "Don't Ask, Don't Tell" policy on Dec. 2, 2010. (Photo by Ward Morrison.)]
Sen. Jim Webb (D-Va.) today announced that he will not be seeking re-election in 2012. Webb has a complicated history with the LGBT community, having been the sole Democrat on the Sentate Armed Services Committe to vote in May 2010 against adding the "Don't Ask, Don't Tell" repeal provision to the National Defense Authorization Act.
By December of that year, however, he appeared to have moved significantly on the issue.
When some of the service branch chiefs expressed less than positive views about repeal in Senate hearings on Dec. 3, Webb asked them, almost rhetorically, "If someone is serving well and they are 15 years into their service … and they want to live an open and honest life. … What do we do?"
When someone responded that, until the law is repealed, the military will have to enforce it, Webb sharply replied, "I'm talking about the human dimension."
On Dec. 18, he voted both to close debate on the standalone DADT Repeal Act and for the bill's final passage.
Servicemembers Legal Defense Network executive director Aubrey Sarvis talked with Metro Weekly on Wednesday about the news.
"Senator Webb's departure will be a huge loss," Sarvis said. "Clearly, he was a strong champion of the military, servicemembers, veterans and, as we saw in the last Congress, a supporter of open service."
Sarvis talked about the changed positions of Webb over the past year.
"Clearly, this journey was a complicated and evolving one for Senator Webb. But, at the end of the day, he got there. He was on the same page with Secretary Gates and Admiral Mullen and the president," he said. "I think it's particularly unfortunate that the senator, having made this journey, that he will be leaving the committee.
"But, the good news is that he's going to serve for another two years there. I'm assuming that he'll continue to be chairman of the very important [personnel] subcommittee. We'll continue to have issues before the Armed Services Committee for the next two years, and hopefully he'll be a part of the resolution of some of those issues."
Webb's statement:
It has been a great and continuing privilege to serve in the United States Senate. I am very proud of my talented and dedicated staff, which has worked tirelessly to resolve the issues on which I based my candidacy, and to protect the interests of all Virginians in this national forum. Among other contributions we have given our Post- 9/11 veterans the best GI Bill since World War Two; we have taken the lead in reforming our criminal justice system; we have led the way toward stronger relations in East and Southeast Asia; and we have been a strong voice in calling on China to act more responsibly in the world community. We will continue to work on these and other issues throughout the rest of my term.

However, after much thought and consideration I have decided to return to the private sector, where I have spent most of my professional life, and will not seek re-election in 2012.

Notwithstanding this decision, I have every intention of remaining involved in the issues that affect the well-being and the future of our country.