The Maryland state Senate's Judicial Proceedings Committee voted today 7-4 in favor of Senate Bill 116, The Religious Freedom and Civil Marriage Protection Act.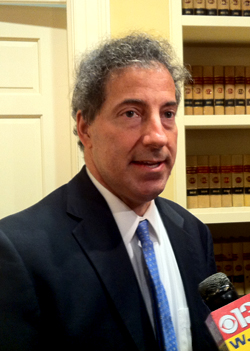 Raskin
(Photo by Yusef Najafi)
The marriage bill was written by Sen. Rich Madaleno (D-Montgomery), the only out gay member of Maryland's Senate, and Sen. Jamie Raskin (D-Montgomery).
Before voting on the bill, the committee voted on amendments to the bill, including one proposed by Sen. James Brochin (D-Baltimore County) who wanted to include language of "civil unions" available to same-gender and opposite gender couples. That amendment failed, but two that were introduced by Raskin, were approved.
Raskin's amendments included one in identifying individuals who may not marry each other, including siblings, as well as another amendment that allows religious institutions the right to refrain from performing same-sex marriages and celebrations. That discussion sparked some debate with Robert Zirkin (D-Baltimore County) and Brochin, and Sen. Christopher Shank (R-Washington County) who argued that it would be discriminatory.
Those voting against passage of the bill included Sen. Nancy Jacobs (R-Cecil and Harford) who explained her reasoning to the press, immediately after the vote.
"I came to this conclusion, because I'm a Christian and to me, God's word, for a Christian is the same today and everyday," she said. "Public opinion may change, but for people of religious faith God's word does not change."
The bill now moves onto to the Senate for a floor vote. If passed into law, SB-116 would grant same-sex couples legal marriage rights in the state of Maryland, while also protecting the rights of religious institutions to handle issues of marriage however they see fit.
Speaking to Metro Weekly immediately following the vote, Raskin said the marriage bill is in "good shape," and that it would most likely be introduced on the floor for a vote on Monday, Feb. 21 or Tuesday, Feb. 22 with results to conclude by the end of the week.
"It might be held for a day under the rules of the Senate where a senator can delay with a special order" he said. "So I imagine that we will be in a thick of debate of this on Wednesday and Thursday and that we'll have it to a vote by the end of the week."
Twenty-four votes will be needed in the state Senate for the bill to pass. As of Thursday, evening, Feb. 17, 24 senators have expressed publicly that they will support the measure, 21 have said that they will oppose it.
Sen. James Carew Rosapepe (D-Prince George's, Anne Arundel) declared his support on Feb. 17, leaving Sen. John Astle (D) as undeclared.
Before Rosapepe announced his support, Sen. Joan Carter Conway, who is also undeclared, had told her constituents that if Senate Bill 116 receives 23 votes, she will cast the 24th vote in favor it, according to Equality Maryland.
For updates regarding marriage legislation in Maryland, visit metroweekly.com.