On Thursday, March 4, 2010, Washington awoke to a simple – yet novel – sight: Taka Ariga leaning in to kiss the man he wanted to marry, Jeremy Ames.
The couple had debated whether to show up on March 3, 2010, to apply for a marriage license on the first day that same-sex couples in D.C. could request one.
Jeremy Ames (L) and Taka Ariga
(Photo by Todd Franson)
"We had been together, boy, five years at that point," Ames explains to Metro Weekly, "and we'd already done a ceremony and been registered D.C. domestic partners and had testified when they were considering marriage in D.C.
"Eventually, we decided to do it."
They were No. 18 – the 18th couple to stand in line for a license application that day – and when they left the Carl Moultrie Courthouse, Ariga says, "As soon as we walk out of the courthouse, this swarm of photographers surrounded us."
Ames says, "We held up the certificate and there was just a series of flashes. I think someone shouted out, 'How about a kiss?' So, it was just a quick – like a goodbye kiss that we might give in the morning."
"At midnight," Ariga says, "just out of curiosity, I was doing some Google searches to see what came of it – and The Washington Post actually publishes the next day's cover as part of that day's online posting – and lo and behold, I found our picture on the front page."
Ames pipes in, "I was asleep at this point, by the way."
"I woke him up," Ariga continues. "We weren't sure what to expect. … It's the front cover of The Washington Post."
Ames lays out what became "the story of the photo."
"I think the first controversy wasn't till a couple days later, when some legislator in Maryland held up the photo and made some comment," he says. "Then the [Washington Post] ombudsman story came out."
That March 9 column by Post ombudsman Andy Alexander defended the photo against those who contacted the paper with critiques that ranged from explicitly anti-LGBT to more subtle complaints about people's "sensibilities." Of these criticisms, Alexander wrote, "Did the Post go too far? Of course not. The photo deserved to be in newspaper and on its [website], and it warranted front-page display."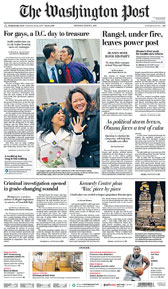 Of the uproar – which, as of Alexander's column, resulted in 27 canceled Post subscriptions – Ames says simply, "I think, more than anything, we were kind of surprised because it seemed like such an innocent kiss."
He adds, "As strange as it initially was, it felt really good to sort of be part of that – as a photo – that type of discussion.
"I think we got one or two e-mails [from friends] that were like, 'You guys are gay-rights pioneers.'
"And we were like, 'No. Having your photo taken does not qualify. We're grateful for all of the people who made the sacrifices [to get to that day], but we're just happy to be able to celebrate in that moment."'
As Ames and Ariga had held a commitment ceremony two years earlier – "On 8-8-8!" Ames proclaims proudly – the wedding itself, which happened on March 17, was more of a final step in a commitment that already had been celebrated publicly with their family and friends.
Despite the accidental photo fanfare, they treated it as such.
Of the civil wedding ceremony, Ames says, "We were in and out in 15 minutes, had lunch, and then Taka went back to work, and I think I took the rest of the day off.
"So, life got back to normal pretty quickly."
And, married life? Ariga chuckles, "It's more or less the daily grind. Both of our jobs are fairly demanding of our time, so we try to take it one day at a time.
"We're very realistic about how fortunate we are living in such a time that this is possible for us, but we try to focus on our lives, how we can make the most of it."
Ames says, "In an interview a couple of weeks after the photo, Frank Kameny … commented on … how glad he was to see the photo. I was really touched by that. I mean, here was someone who really had to struggle so that our generation is afforded that privilege.
"From the perspective of our life, it was just – it made so much sense. It was the next obvious step in our relationship.
"Why wouldn't we want to have this commitment to each other?"
Asked about their upcoming anniversary, Ames says, "Well, we're headed to vacation the week after. Last year was a very busy year for us work-wise, so we really didn't have a chance to get away and take a real vacation together…."
Ariga interrupts.
"There's some practical consideration here. Do you actually celebrate the day that you get married? Do you celebrate the day that you had a commitment ceremony?" he ponders. "You know – it's kind of ongoing."
Ames, though, counters, "But more days to celebrate is not a bad thing. We'll take it."