Update: Arora released a statement on March 4.
The lead sponsor of the marriage bill in Maryland's House of Delegates was also the first person to endorse Del. Sam Arora (D-Montgomery County) in his 2010 election. Now, however, Del. Kumar Barve (D-Montgomery County), says that Arora's decision to vote against the bill is "a shock."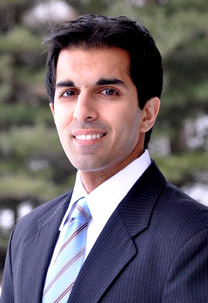 Arora
"I don't know what to think," Barve tells Metro Weekly this evening of Arora's decision to vote against the marriage bill that he once co-sponsored, once it makes its way to the House floor, something Barve says Arora told him personally.
"He told me that he was going to vote against it on the floor," Barve says. "I've been in the legislature for quite a while and nothing is a reality until you actually push the button. And these are hard issues. But he came to me and told me that he was having difficulty with the concept of it."
Barve adds, "It was a conversation where we didn't have a lot of time to talk because it was before a meeting, but we talked very briefly."
Arora did not return repeated calls or e-mails to Metro Weekly seeking comment.
"It's been a shock for many of us," Barve adds. "I'm hopeful that he will change his mind and vote for marriage equality on the House floor."
Others, like Chevy Chase Mayor David Lublin, are not so kind. Lublin says that if Arora does vote against the marriage legislation on the House floor, his next move should be to resign.
"If he honestly feels like he cannot vote for this on the floor, the only honorable course of action will be for him to resign because he campaigned so strongly on the issue to so many different people."
Asked why Arora changed his mind, Barve is at a loss.
"If you're expecting an explanation or some sort of enlightenment from me, you're not going to get it. I honestly don't know. It's very unusual. People do change their minds," he says. "Is it unusual for a sponsor to change his mind on a piece of legislation that they've sponsored? No it's not. People do that all the time, but not on big social issues like this. It's somewhat unheard of."
Lublin, who is gay, is an at-large member of Equality Maryland's board of directors and also founder of the Maryland Politics Watch blog. He echoed similar sentiment regarding Arora's changed position, recalling Arora's promise to fight for marriage equality when asking for Equality Maryland's endorsement during the elections.
Equality Maryland did not endorse Arora in the primaries, but did so in the general election.
"It was an endorsement he requested and he said, not only would he vote for, but he would support the bill and wrote in a passionate statement that it was a 'matter of equality,'" Lublin says.
"This was not a secret; it was a major campaign issue in the primary and general election. Even leaving aside the issue, I think it's a matter of personal integrity to support legislation on which you campaign.
"I'm still hoping that he will honor that commitment not to gays and lesbians, but to people who voted for him and supported his campaign."
If not, Lublin says that Arora should resign.
But perhaps most shocked by Arora's changed position on the marriage bill is Lisa Deane-Polyak, who has been with her partner Gita for 30 years. They have a daughter together, and Deane-Polyak shared her story with Arora, face to face, during a Feb. 21 Gertrude Stein Young Democrats gathering.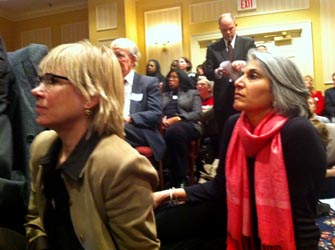 Lisa (L) and Gita Deane-Polyak
(Photo by Yusef Najafi)
"I had a conversation with him at length," she says.
"We talked about the fact that his family is originally from India, as is my partner, and where our families where from, respectively, in India. I thanked him for his support of marriage equality and he said it was something he believed in. I had a face-to-face conversation with him."
Deane-Polyak says Arora's changed stance is contradictory on many levels.
"It contradicts our conversations. It contradicts his co-sponsorship of the bill, it contradicts his candidate questionnaire which is signed with his own hand. Something very serious has come up for him, and it's just not clear what that is or why."