On March 10, the White House held a conference dedicated to discussing bullying prevention and sharing ideas and strategies for combating the crisis. Despite the setting, the two pieces of federal legislation specifically crafted with that aim were not mentioned by the multiple senior administration officials, including President Barack Obama, who spoke at the event.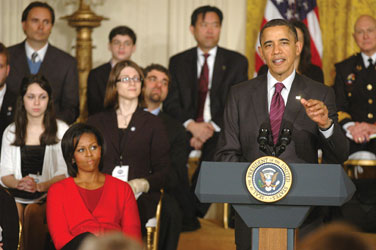 President Obama

addresses attendees of the White House Bullying Prevention Conference on March 10
(Photo by Ward Morrison)
The unprecedented March 10 conference brought together many leaders in the field – from activists to academics, government officials to business executives – but the focus was remarkably local. Breakout sessions focused on in-school, campus-based and community-based programs and policies, as well as cyberbullying. No similar sessions, however, focused on federal legislative or even administrative efforts – although participants raised them in the other sessions.
Obama's introduction echoed this focus, telling the crowd assembled, "As parents and students, as teachers and members of the community, we can take steps – all of us – to help prevent bullying and create a climate in our schools in which all of our children can feel safe; a climate in which they all can feel like they belong."
What was not present in that initial description of the aims of the day was any mention of the federal government that he leads, although he later referenced that the government was "launching a new resource called stopbullying.gov," a Web-based resource for teachers and parents, as well as the fact that the secretaries of Education and Health and Human Services were "going to be working on" the administration's efforts to combat bullying.
What was completely absent from the president's remarks was any mention – however fleeting – of either legislative effort aimed at combating bullying or discrimination based on sexual orientation or gender identity.
The two main pieces of legislation that advocates such as the Gay, Lesbian and Straight Education Network (GLSEN) have been pushing are the Safe Schools Improvement Act (SSIA) and the Student Non-Discrimination Act (SNDA). The SSIA would amend the Safe and Drug-Free Schools and Communities Act to include bullying- and harassment-prevention programs, including ones based on sexual orientation or gender identity. The SNDA, modeled after Title IX, would add sexual orientation and gender identity to federal education nondiscrimination law.
The SSIA was reintroduced by Sens. Bob Casey Jr. (D-Pa.) and Mark Kirk (R-Ill.) earlier in the week of the conference and has 19 co-sponsors. At the end of the 111th Congress, the bill had 132 sponsors and co-sponsors in the House and 18 sponsors and co-sponsors in the Senate.
The SNDA, meanwhile, was reintroduced by Rep. Jared Polis (D-Colo.) and Sen. Al Franken (D-Minn.) on the same day as the conference. The House bill has 99 co-sponsors, and the Senate version has 29 co-sponsors. At the end of the 111th Congress, the bill had 127 sponsors and co-sponsors in the House and 32 sponsors and co-sponsors in the Senate.
Neither bill was mentioned by Obama in his remarks, nor were they mentioned by Health and Human Services Secretary Kathleen Sebelius or Education Secretary Arne Duncan later in they day when they addressed the attendees.
Over the course of the past nine months, in fact, White House and other administration officials have declined numerous opportunities to endorse either bill and have rarely even mentioned the bills except in response to specific questions about them.
For this story, White House spokesman Shin Inouye repeated a point he's told Metro Weekly several times previously, writing, "We support the goals of both of these bills. This year, when the Elementary and Secondary Education Act is being considered, we look forward to working with Congress to ensure that all students are safe and healthy and can learn in environments free from discrimination, bullying and harassment."
In June 2010, at the White House LGBT Pride Month Reception, Obama spent a significant part of his 13-minute speech addressing LGBT youth issues – without endorsing either piece of legislation.
In July 2010, White House domestic policy adviser Melody Barnes, the director of the White House Domestic Policy Council, declined to endorse either piece of legislation, telling a group of LGBT reporters and bloggers, "It may be that we haven't been specifically asked to – I don't know. There are any number of situations where legislation is out there and it hasn't gone through our review process."
In August 2010, Kevin Jennings, the founder of GLSEN who now serves as the assistant deputy secretary for safe and drug-free schools in the Education Department, was asked about whether his office had taken any action in support of either bill. He pushed the question back to Barnes. "The [Domestic Policy Council] sets the policy; we implement it. That's how it works," he said. "So, if you want movement on this issue, you call the White House."
When the issue of youth bullying and teen suicide moved front and center in the news in the weeks after the suicides of 18-year-old Rutgers University student Tyler Clementi and others who were or were perceived to be LGBT, Inouye wrote to Metro Weekly in October 2010 that "the President supports the goals of both of these bills – we all need to work towards an America where our schools and our communities are safe for every person, regardless of sexual orientation or gender identity."
He added, "Next year when the Elementary and Secondary Education Act is being considered, we look forward to working with Congress to ensure that all students are safe and healthy and can learn in environments free from discrimination, harassment, and intimidation …."
But when Obama senior adviser Valerie Jarrett spoke about stopping bullying and LGBT youth suicide at the Human Rights Campaign National Dinner earlier that same month, she didn't mention either piece of legislation or the ESEA reauthorization.
Efforts to draw attention to the issue of anti-LGBT bullying – most notably, the "It Gets Better" campaign started by Dan Savage – struck a chord with the country, even leading Obama to record a message that was uploaded to YouTube on Oct. 21, 2010. He did not mention either bill as a way that the government could help make it better in his three-minute message.
Later that month, the Education Department sent a letter to educators clarifying that, under Title IX, educators have a legal obligation to protect LGBT students from sexual harassment and gender-based harassment resulting from sex stereotypes. At the same time, however, SNDA would provide direct protection against discrimination based on sexual orientation or gender identity, which is not covered under Title IX. Assistant Secretary of Education for Civil Rights Russlynn Ali said the Education Department "certainly support the goals of both [the SNDA and SSIA]" and added that, during the ESEA reauthorization process, the department would "use all of the policy tools within our disposal to try and prevent this type of harassment from occurring."
In February of this year, however, when Obama met with senators of both parties from the Health, Education, Labor and Pensions Committee to discuss the ESEA reauthorization, there was no discussion of either bill.
The same was true, according to a White House official, when Obama met with both House and Senate leaders from the relevant committees on March 10 – just hours after meeting with families of those students for whom bullying led them to end their own lives.
Sirdeaner Walker, the mother of the late Carl Joseph Walker-Hoover, was one of those family members. She previously testified before Congress in support of the SSIA, urging Congress to take action to help end the bullying that led her son to hang himself in March 2009. Of her meeting with Obama, GLSEN public policy director Shawn Gaylord told Metro Weekly, "She made the case directly to the president that she wants to see this become law."
But there was no mention of that bill or the SNDA in either the speech Obama gave later that morning at the bullying prevention conference or in his March 14 education speech that laid out his plan for Congress to, as he said, "send me an education-reform bill I can sign into law before the next school year begins."
Despite the White House's failure to endorse either bill specifically, its support for the aims of the bills leaves GLSEN with hope.
GLSEN's Gaylord said on March 15, "For both bills, I think the goal is still the reauthorization process. Both bills could be standalone bills, if that ended up being what happened, but the goal is still to have the measures incorporated in the ESEA."
Either bill, as a standalone measure, would face an uphill battle in the House – where the new chairman of the House Education and Workforce Committee is Rep. John Kline (R-Minn.), who received a zero score from HRC in the 109th, 110th and 111th Congress.
Despite that, Gaylord said, "Both bills have a lot of support in Congress. Both bills have a lot of support in the [relevant] committees. I think we're making a really good case for both bills at the moment."
Of the lack of an endorsement of the bills from the White House, Gaylord said, "It would be great if they had done it already, but I don't think the moment has passed.
"I think that a statement of support around either or both bills is clearly what we're looking for."