There's a key reason to see The Trip to Bountiful currently at Round House Theatre in Bethesda and it's not what you might think. Or at least, it's not primarily because the production features a primarily African-American cast, purportedly for the first time. That's intriguing all its own, of course. The late Horton Foote's beloved play, originally staged in 1953 and made into a movie in 1985, is set in Texas in the 1940s. So without changing a word of text, the subtext and nuances take on new meaning here, presenting the subtle struggles of a slice of lower-middle class America — pre-Civil War at that — rarely seen.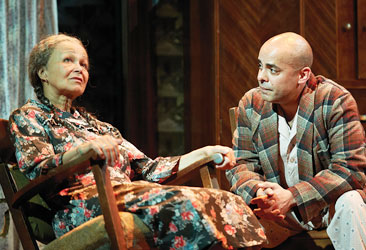 The Trip to Bountiful
(Photo by Roger Mastroianni)
But the key reason to see this show is also the key reason director Timothy Douglas went with a black cast in the first place: Lizan Mitchell. Douglas, who had most recently worked with the actress on August Wilson's Gem of the Ocean, struggled to find a compelling play in which to cast the powerful and resourceful Mitchell in a leading role. Once he decided on The Trip to Bountiful, it became clear he would need an African-American cast — at least to play the key roles of her son and daughter-in-law, and of the fellow traveler (played by the magnetic, magnificent Jessica Frances Dukes) who Mitchell's character, Carrie Watts, bonds with presumably while at the back of the bus.
Carrie Watts is the elderly mother who dreams of escaping the small Houston apartment she shares with her son and his overzealous wife. She plots a return to life in the small rural town of Bountiful where she grew up and raised her family until her husband died.
Mitchell captivates the audience from the moment the play begins, as she sits in her rocking chair humming a hymn, whiling away the night and the pain of her present entrapment and memories of past freedom. Mitchell's caged bird is constantly singing. This is much to the dismay of Carrie's daughter-in-law, played by Chinai J. Hardy. Jessie Mae Watts repeatedly asks Carrie to stop humming and whistling, even turning up the radio drown her out at one point.
Hardy tries to give her Jessie Mae more of a heart than previous incarnations of the character. Jessie Mae mocks and belittles her mother-in-law at nearly every turn, ruffling everyone's feathers. Hardy ultimately succeeds in her complex portrayal, though in the first act she seems a little too timid in her put-downs and put-upons of Carrie, who is sweet and frail — if not a little stubborn — in Mitchell's hands. Chalk it up to Mitchell's force of personality that even Hardy can't fully cross her.
Howard W. Overshown as Carrie's son Ludie perfectly captures a gentle man torn between the two dominant women — each in their own way — in his life. He spends most of his time away from the apartment working to the bone to support the family. Carrie's pension check also supports the family, though it seems Jessie Mae spends more of that money on her regular afternoon binging on Coke with her girlfriends at the neighborhood drugstore.
THE TRIP TO BOUNTIFUL



AND ONE HALF
Extended to April 10
Round House Theatre Bethesda
$25-$60
202-644-1100
roundhousetheatre.org
One day while Jessie Mae is out mingling at the drugstore, Carrie finally musters the courage to travel alone to Bountiful by bus, a risky move for an elderly woman with a heart problem, and especially an African-American woman in the South. Life is more about the journey than the destination, the saying goes — and that's certainly true in Foote's play.
Bountiful is a luminous, evocative production. Tony Cisek's sets conjure a time and place but also leave much to the imagination, especially in his minimal recreation of Carrie's barren Bountiful home, essentially nothing more than a wood-plank entryway and blue patterned wallpaper blending into the sky. Also notable is lighting designer Christopher Studley, who leaves you lingering at the white orb off in the distance for far longer than the time it's lit up as a full moon. Meanwhile, sound designer James C. Swonger slightly overdoes it, piping in the sound of cars skidding, dogs barking and especially birds chirping in a way that threatens the reflective mood.
But you'll reflect on the piece nonetheless, on its themes about the value of the past to one's present and future, and about the need for individual space and freedom, even an escape every now and then.