Jeffrey Johnson recalls Noi Chudnoff shopping at thrift stores for bras and panties — for him to wear. "It's so funny," he laughs. "What other job, what other boss, would come in with underwear of the other gender for you?"
Of course, no one else was quite like Noi Chudnoff, whose legacy and spirit has far outlasted her physical body, which gave out in 2007. The founder of Go Mama Go!, Chudnoff helped nurture Johnson's career as drag queen Special Agent Galactica. She was also a big supporter of the broader LGBT community in D.C.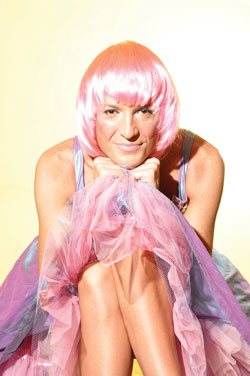 Jeffrey Johnson: Galactica
This Sunday, March 13, Johnson as Galactica will host a special performance and party in the store's rear section, rechristened Noi's Nook. "It'll be a very eclectic mix," says Johnson, "to show the range of all the different arts that this store has helped develop and sponsor over the years."
Galactica will emcee and sing duets with some of the evening's performers, including jazz vocalist Maureen Mullaney and rocker Tom Goss. Among a slew of others set to perform are a few Falsettos cast members from last fall's Ganymede Arts production in Noi's Nook, as well as an "Improv/Art Mashup with Jason McCool and Joce(lyn)." DJ Ten will help turn the stage into a dance floor afterward.
The party will be the closing event for the black-box space, and will take place just a few weeks before the struggling Go Mama Go! finishes out its lease and closes for good, a victim of the economy but especially the loss of its original founder's singular vision.
"It's going to be a night of reflecting and remembering and celebrating and having a good time."
Go Mama Gone concert is Sunday, March 13, at 7 p.m. at Noi's Nook, 1809 14th St. NW. Tickets are $20. Call 202-299-0850 or visit ganymedearts.org.