"The '80s are a bit of a blur," laughs Stephen Pevner. The 50-year-old is pretty sure he went to storied New York club Paradise Garage, where house music and DJ culture took root, but he mixes it "with a whole bunch of other after-hours clubs from the '80s."
Pevner now heads the offshoot of another long-gone famed New York club, the Saint. And this year, Saint-At-Large's celebrated annual leather/fetish event the Black Party is headlined by DJ Danny Tenaglia, the gay DJ legend who has credited the Garage with inspiring him to the turntables in the first place.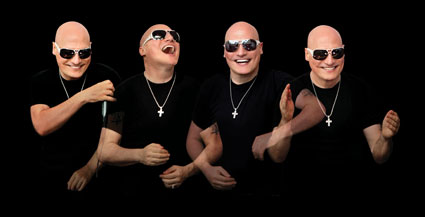 Danny Tenaglia
"I've asked [Tenaglia to play the Black Party] for 10 years, and now it's finally worked out," says Pevner. Tenaglia, who mostly only plays straight events, will spin after 6 a.m. during the more-experimental after-hours portion of the party, which attracts approximately 5,000 partygoers celebrating the energy and fertility of spring.
This year's Black Party, set for Saturday, March 19, at the cavernous Roseland Ballroom in Manhattan's theater district, also features an opening set from Berlin-based opening DJ 80R15 and peak-hour music from circuit veteran Manny Lehman.
"It really is a musical odyssey," says Pevner. "[80R15] will introduce the crowd to brand-new electro/techno music. Manny will do the tribal section because this is what he does best. Then I think the crowd is really willing to go wherever [Tenaglia] takes them. He understands afterhours [music] in a way that very few DJs today do."
In addition to the music, this year's Black Party will feature even more of the "strange live acts" the sexually charged party is known for. With stage direction from a Broadway veteran, Melanie Armer, Pevner says the show will be more "theatrically inspired" than in the past, including "environmental/atmospheric lighting" by Darren Kawa. The theme is Birth Rites.
The Black Party Expo returns to help kick off the weekend, and this year also offers an official Sunday night closing party, Asylum, at club Amnesia, led by last year's Black Party DJ Paulo.
"It's very rare that people travel to New York for our nightlife anymore," says Pevner. "[The Black Party full weekend] is a taste of stuff you can't get at any other time of the year."
The Black Party is Saturday, March 19, at New York's Roseland Ballroom, 239 West 52nd St. Doors at 10 p.m. Tickets are $125 at the door. More information on the full weekend is available at saintatlarge.com.