The exclusion of a public accommodations provision from a Maryland bill aimed at ending transgender discrimination has led one group of LGBT activists, Trans Maryland, to oppose the legislation.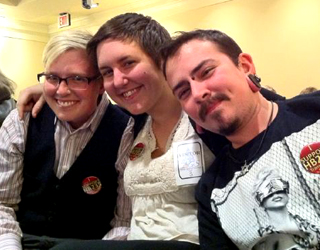 Supporters of Maryland gender identity bill
(Photo by Yusef Najafi)
The executive director of Equality Maryland, however, tells Metro Weekly that legislative leaders in the Maryland House decided the "support was not there to pass a bill that included public accommodations."
The bill currently moving forward in the Maryland House of Delegates Health and Government Operations Committee, House Bill 235, prohibits discrimination in housing, employment, licensing and commercial leasing on the basis of gender identity.
In a press release sent out on March 14, Jenna Fischetti, media director for Trans Maryland, says the group is scheduled to meet outside the U.S. Supreme Court at 7 p.m. tonight to rally against the legislation. The group states that many feel "misrepresented" by Equality Maryland, the state's equal rights organization pushing the bill forward.
"Transsexual and transgender people should represent themselves, not gay and lesbian organizations," Fischetti says in the statement. "We are taking back our voice."
But Equality Maryland does give voice to transgender Marylanders, according to Linsey Pecikonis, communications manager at Equality Maryland, who identifies as "gender queer."
"We've been holding a transgender issues working group meetings every Wednesday night in the Baltimore Equality Maryland headquarters for us to discuss H.B. 235 along with our long-term plans to address the lack of public accommodations in H.B. 235 and other legislation and other issues we can help push to progress for the transgender community," Pecikonis says.
"While we've heard varying opinions at these meetings, a majority of those who attend are supportive of our first step in protecting the transgender community now with H.B. 235," she says. "Everyone agrees that the bill is not perfect, but it is a strong first step and important first step that will protect the community now. We are committed to going back next year to gain public accommodations protections, much like California did."
Equality Maryland executive director Morgan Meneses-Sheets says excluding "public accommodations" on the bill was an effort taken by supporters of the bill to get it passed in this session.
Similar legislation, which included protections for transgender people with regard to Maryland public accommodations, has failed in the past.
"The sponsor in consultation with leaders on the committee determined that the support was not there to pass a bill that included public accommodations," Meneses-Sheets wrote in an e-mail to Metro Weekly. "The votes are there on committee to advance protections for jobs and housing — critical needs among transgender Marylanders.
"This bill is only a first step, but we and many other activists feel that it is an important first step. We are excited about the opportunity to finally take a big step forward transgender protections in the statewide political arena. This will provide much needed protections and make a strong statement by including gender identity in the category of 'protected classes."'
Pecikonis also points out that Alex Hickcox, who is transgender, serves on Equality Maryland's board of directors. And the organization also employs Owen Smith and Riley Waite-Jones, who are transgender. Smith testified in favor of H.B. 235 on March 9 in front of the Maryland House of Delegates Health and Government Operations Committee.
During that hearing, there was only one transgender person in attendance speaking against its passage: Donna Simone Plamondon, a transgender woman from Baltimore and organizer at Trans Maryland.
"Even the government of Iran recognizes transexuality as a medical condition," she said. "Transsexuals should be protected by a public-accommodations amendment. … We deserve the dignity to which all citizens are entitled."
But the majority of attendees at the hearing overwhelmingly supported the legislation – including Del. Mary Washington (D-Baltimore City), who supported the bill. She said the legislation is way overdue during her testimony and added that she shares the frustration of those angered that the bill does not include public-accommodation protections.
"In the future we will be able to make sure those protections and those opportunities are not denied," she said.
While there are no statewide protections, currently Baltimore City and Montgomery County provide protections against discrimination on the basis of gender identity with regard to housing, employment and public accommodation.