The fallout from the Feb. 23 announcement by Attorney General Eric Holder that the Justice Department will no longer defend Section 3 of the Defense of Marriage Act – the federal definition of marriage – has quickly moved from questions about existing DOMA challenges to questions about how the new DOJ interpretation could impact immigration law.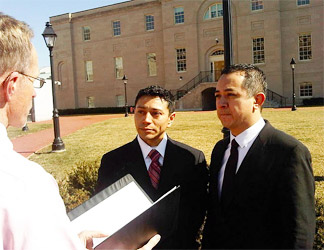 Edwin Echegoyen, left, and Rodrigo Martinez are married in the District on March 1
(Photo provided by the DOMA Project)
On Feb. 25, attorney Lavi Soloway announced that he was filing multiple requests on behalf of married, same-sex bi-national couples where one spouse is facing deportation.
A day earlier, on Feb. 24, Soloway began the process in a case before the Board of Immigration Appeals (BIA) in which Joshua Vandiver is seeking to sponsor his husband, Henry A. Velandia Ferreira, for immigration purposes. Velandia had come to the U.S. from Venezuela on a work visa, which has since expired.
Ordinarily, an American spouse would be able to sponsor his spouse for immigration purposes, but DOMA prevents Vandiver from sponsoring Velandia – despite the fact that they were legally married in Connecticut.
As soon as Wednesday, March 9, another couple – Edwin Echegoyen and Rodrigo Martinez – face separation, as Martinez is due to surrender in Baltimore for deportation to El Salvador on that day.
On March 7, Soloway filed a Motion for Emergency Stay of Removal, which would prevent Martinez's deportation, and a Motion to Reopen Proceedings and evidence of the marriage, which could lead to the consideration of whether DOMA should continue to prevent Echegoyen from being able to sponsor Martinez, with the relevant officials.
Talking with Metro Weekly about the challenges, Soloway said, "The attorney general's statement and position on the Defense of Marriage Act is very relevant and we think that, regardless, the [relevant officials in immigration courts and the BIA] should take note of it. It could hardly be more relevant."
In addition to the legal cases, Soloway – a co-founder of Immigration Equality – noted, "There's room there to make policy, and I think that policy should be to hold those cases in abeyance."
Rachel Tiven, the executive director of Immigration Equality, agreed that the DOJ decision was "enormously helpful" on this front, saying this week, "It means that there is even larger potential than there already was for couples that are facing separation or are already separated to win relief."
She added, referring to legislative efforts like the Uniting American Families Act (UAFA) and executive and judicial efforts, "We are full throttle on all three, and we are eager to see which branch of government wants to end this discrimination soonest."
On the legal front, Soloway acted the day after DOJ's announcement. In the notice of appeal sent in Vandiver and Velandia's case to the BIA on Feb. 24, Soloway argued that – in light of the DOJ decision about DOMA – Vandiver's request should not be denied on account of DOMA.
"Although the [Immigration] Service Center invoked Section 3 of The Defense of Marriage Act (DOMA) to deny [Vandiver]'s 1-130 Petition for Alien Relative notwithstanding [Vandiver]'s submission of evidence of a bona fide marriage, the Service Center's reliance on DOMA is inappropriate," he wrote.
Referring to the Feb. 23 letter from Holder describing the administration's conclusion that Section 3 of DOMA is unconstitutional, Soloway argued, "Because the Attorney General has declared invalid the basis upon which the Service denied [Vandiver]'s Petition, there is no longer any constitutional basis to deny the Petition where, as here, the Petition is grounded in a marriage that is valid under state law."
Explaining the process, Soloway explained that unlike ordinary federal courts, "The Immigration Court and Board of Immigration Appeals are a part of the Department of Justice. It's an executive branch sub-agency. It's not part of the federal judiciary."
Soloway added, "The Board of Immigration Appeals takes on appeals of decisions of those immigration judges or the Immigration Service [which is itself a part of the Department of Homeland Security]."
In explaining the relevance of Holder's decision, Soloway noted, "The person who is the head of the agency just said he thinks it's unconstitutional."
Of the policy route, Soloway noted, "The place for policy to be developed for the BIA is at the DOJ.
"The best thing for the Department of Justice to be doing now is to be holding off on decisions," he said. "We're arriving at a new day, and that means a lot of new opportunities."
Saying, "It's not exactly rocket science," Soloway noted when speaking about these issues previously that the administration "has twice dealt in a very special way with groups of individuals facing deportation."
He explained, "They put a moratorium on the widows of U.S. citizens in 2009, and, in 2010, the administration announced it would defer action on the deportation of individuals who are likely eligible under the DREAM Act. So, the administration has shown that it does use its executive branch muscle when it comes to discretion about who to deport."
Immigration Equality also has supported a similar route, announcing in the week following the DOJ's Feb. 23 decision that it too was considering legal action regarding binational couples in the wake of the changed interpretation. Speaking with Metro Weekly, Tiven did not get into detail about the specifics of the group's plans, saying, "That gets into our litigation strategy, and we're not just going to share that."
She added, though, "Immigration Equality has looked for years at the question of whether or not to file a federal court challenge to DOMA. That is a question we ask ourselves periodically."
The changed circumstances recently led Immigration Equality to conclude, Tiven said, "Enough things have shifted here that it makes more sense to sue than it does not to sue."
Although a lawsuit would take time to progress, Soloway points to the discretion of a policy change as a chance for quick movement, saying, "I don't think this takes months. Within a few weeks, the administration could develop a policy and address this issue."
He added, "The need is urgent. The people involved in this have dates in court, and could be deported and have a 10-year bar on returning to the United States."
On March 1, for example, Soloway was in D.C., witnessing the wedding of Echegoyen and Martinez, who began dating nearly eight years earlier. With an order to surrender for deportation on March 9, though, Soloway said the case would come down to the wire for the couple.