Washington saw 68 reported hate crimes in 2010, according to the Metropolitan Police Department.
But those are just the ones they know of.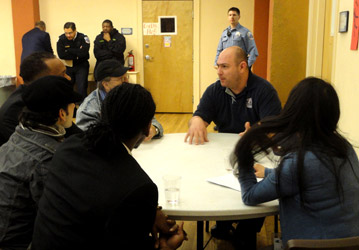 Sgt. Parson
(Photo by Yusef Najafi)
Twenty-five of those bias-related incidents against people who are (or are perceived to be) of a certain race or LGBT occurred in the Third District, which includes Columbia Heights. What's even more troubling, said Sgt. Carlos Mejia, who heads MPD's Special Liaison Unit, is that people often do not report bias-related incidents.
To help change that, and to address 2010's bias-related crimes rates, the Northwest Columbia Heights Community Association hosted a public forum on hate crimes on Tuesday, March 15, at St. Stephen and the Incarnation Episcopal Church.
Mejia was part of a panel of six people that featured Gays and Lesbians Opposing Violence (GLOV) co-chair A.J. Singletary; GLOV spokesperson and former co-chair Chris Farris; Sgt. Brett Parson, who lead MPD's Gay and Lesbian Liaison Unit from 2002-2009; Det. Mary Bonaccoursy of MPD; and AnaElsa Aviles, a community and labor organizer.
"Tonight's meeting is a chance to hear information, learn, meet each other, and raise awareness about very serious problems in our community," said Cecilia Jones, NWCHCA president.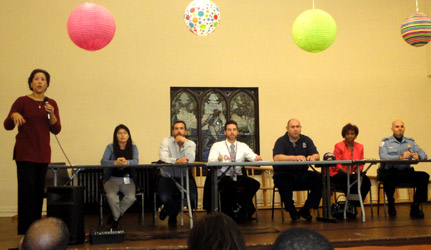 The panel
(Photo by Yusef Najafi)
"If we each do a little, we can all do a lot. That's what this is about. We're not going to solve anything in the next hour and a half, but little by little we will."
After panel instructions, the more than 40 attendees –including several MPD officers and representatives from the U.S. Attorney's Office — split into three groups to discuss bias-related crimes further. Group discussions ranged from what happens when a hate crime is reported to the reluctance of victims to report crimes due to embarrassment or immigration status.
Much of the discussion centered on the importance of reporting a crime when it occurs. Bonaccoursy said there are times when a crime is not reported as a hate crime, but further investigation reveals it to be one.
Farris said people who are not LGBT or Latino should also be concerned about hate crimes, because they could be attacked due a perception of being LGBT.
"The perception to them is all that matters," he said. "In addition to the overall concern that we should all care about the crime in our neighborhoods… there's also the issue that it really can impact you the way that it impacts us."